Yesterday was International Women's Day!
While McDonald's flipped their arches, we celebrated by putting together a list of just a few of the awesome female artists we're loving lately. Their work is all stylistically and thematically different, so we just know you'll find something on this list that'll complement your personal style.
Of course, we've also sprinkled in some framing suggestions, just in case you're looking to add a new piece or two to your custom framed art collection.
---
1. Donna Yan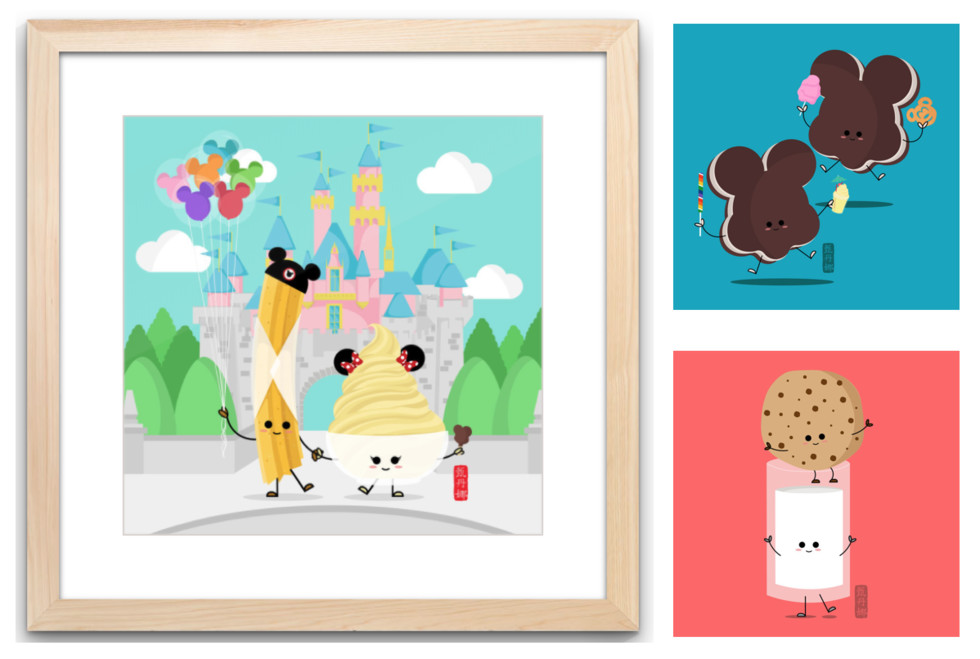 Image source: Donna Yan
Donna Yan is a designer and illustrator who creates adorable works of art inspired by her love of food and travel. A huge fan of everything Disney, many of Donna's print collections are themed accordingly, full of charming images like the ones above. Her kawaii-style characters, including churros and Dole whips holding hands outside Cinderella's castle, are perfect for baby nurseries, children's bedrooms or any Disney fan. Plus, if you have a favorite Disney snack or backdrop you don't see featured in her existing collections, you can reach out to her to commission a print of your own.
Because Donna's prints come in fairly small sizes and feature pastel shades, they generally work best with lighter colored frames, like our white or natural maple options. Adding a wider mat is also a popular choice for smaller print sizes, due to the fact that it increases the overall size of the frame to make it visually more grabbing.
2. Nicole Cohen
Image source: Nicole Cohen
Founder of the lifestyle blog Sketch42, Nicole Cohen is an NYC-based artist and photographer. Her photography focuses heavily on day-to-day scenes and objects framed in an almost abstract way, which only makes sense considering she is a successful abstract painter as well. She skillfully makes everyday visuals look extraordinary with her unpredictable and alluring camera angles. Nicole's work (as both an artist and lifestyle/design influencer) has also been featured in many popular blogs and publications -- not surprising, given the intangible, summery coolness of it all.
3. Jenny Odell
Image source: Jenny Odell
In her Satellite Collections, Jenny Odell collects images from sources like Google Maps and uses them to create mosaic-like pieces of art that you'd never guess were made up of things like swimming pools and circular farmlands she found online. Odell's fun compositions leave room for new discoveries upon every view. You can either choose to view her prints up close to reveal the meticulous details and subtle differences of her curated everyday objects, or look at the bigger picture like a stained glass window composed of various shapes and sizes.
Her work is rooted in the place between the abstraction of human life and the study of it, and has been showcased at the Google Maps HQ as well as in several notable publications and at galleries/exhibits around the world.
4. Ayqa Khan
Image source: Ayqa Khan
Ayqa Khan, a Pakistani-American self-taught artist based in New York, creates pieces that frequently depict South Asian women proudly and openly displaying their body hair. Her work speaks to and challenges the pressure put on women to conform to long-held societal beauty ideals. With her illustrations, she also explores the in-between state of her own cultural reality, having stating in interviews that she never felt "enough" to fully fit in to either of her two cultures.
The piece on the left above, titled Disco Baby, was featured in a recent art exhibition put on by Google, where it was framed full-bleed, with no mat in our white maple profile. Because of the darker colors in this image, light-colored frames would work best to let the artwork shine without being weighed down by a dark border.
5. Talia Koval
Image source: Talia Koval
Talia Koval is a Lake Tahoe-based live painter, originally from Ukraine. She attends and documents all kinds of events, from weddings to the Women's March, and turns her in-the-moment paintings into quality giclée prints with Level.
Talia's Women's March print perfectly captures the spirit of the movement, and ties different elements in the image together with the use of rich pinks and purples. We recommend a white frame for this one in particular, so as not to have the frame compete with the vibrant colors in the print itself.
---
We hope you'll check out more work by these (and other) talented women! If you ever find yourself in search of a new artist with a particular style of work, or just a place to browse through artwork to frame, we'd be happy to offer our recommendations and personal curations. Just reach out to us via the blue chat bubble icon on he bottom right of the screen.