Whenever the holidays or an important occasion is upon us, it's time to think about the special people on our lists.
Get a jump on your gifting and surprise someone with one of the seriously one-of-a-kind keepsakes below.
Fair warning, these sentimental framed gifts may exceed expectations and be difficult to top next time.

---
Frame a Ticket Stub

Tickets usually get lost or tossed out after the experience of the actual event has worn off. Keep the memory alive by framing the ticket or other mementos from the outing.
Whether it was that awesome concert, the big game, or an amazing trip, hold on to your stubs and receipts and we'll help you custom frame them online.
It's a gift that brings back and preserves shared moments.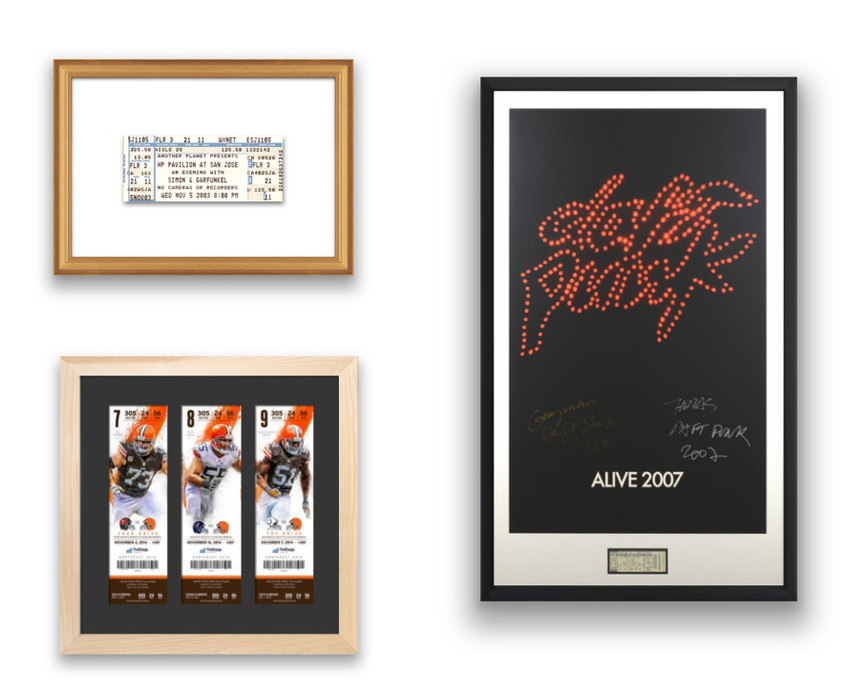 Image credit: Creative Pro, Cleveland Browns
To pepper in some extra personalization, a double mat adds a nice dramatic contrast of color and can make the seemingly small ticket (figuratively) pop out of the frame.
If you are framing a sports or music ticket, using a float frame to float the stub above the matting can create a dramatic effect.
Frame Your Polaroid Pictures
Digital images are super convenient to upload and print as framed photos, but Polaroids experienced a resurgence in recent years and we're not looking back!
These instant photographic prints look small but make a big impact. When many are presented together, it resembles a completed puzzle made up of nostalgic moments.
Photo credit: Aranxa Esteve, Ivana Cajina, Jon Tyson, Roberto Nickson, Sam Manns, Seth Doyle
If you've got a stack of these handy, you can tailor your selection to whomever you are surprising.
Pick out your favorite candid moments, milestones, celebrations and build an original deck of memories to share. Online custom framing makes it possible to pull off the feat, and you can then watch their face beam when they unwrap this present.
Frame a Book, Magazine or Comics Cover
This is a perfect and affordable gift idea for the avid-readers in your life.
Find their treasured title in paperback and transform it into a work of framed art. Carefully cut the cover from the rest of the pages, measure it out and start designing the frame to fit. With their nose always stuck between a novel, magazine, or comic book, they'll never see this coming!
And if you have a full comic book that would look amazing on the wall, we've created the best way to frame comics that looks great and keeps any collectible safe.
Bonus: For fans of Broadway and musicals, frame their favorite iconic Playbill cover. Let us know which show you are looking for, we'll take care of the rest

Image credit: Chicago Public Library, Indiereader, Pinterest
Framing Favorite Souvenirs, Memories and Music

Souvenirs from travel and special occasions don't have to be traditional or expensive.
What makes them valuable is their ability to transport us back to a specific place or moment. Try to find "souvenirs" that have this effect on your lucky recipient.
It could be framing a love letter to your significant other, or the record playing during your wedding dance or first date.
Perhaps the next time you have a memorable meal with someone special, you secretly keep the menu. Gift it inside a custom frame to remind them that they were, and currently are, in good company.
A little digging through old shoeboxes, closets and photo albums can also be a jackpot. Surprise friends and family with long lost photographs and use a photo scanning app to digitize them before turning them into artfully crafted, framed photos with Level.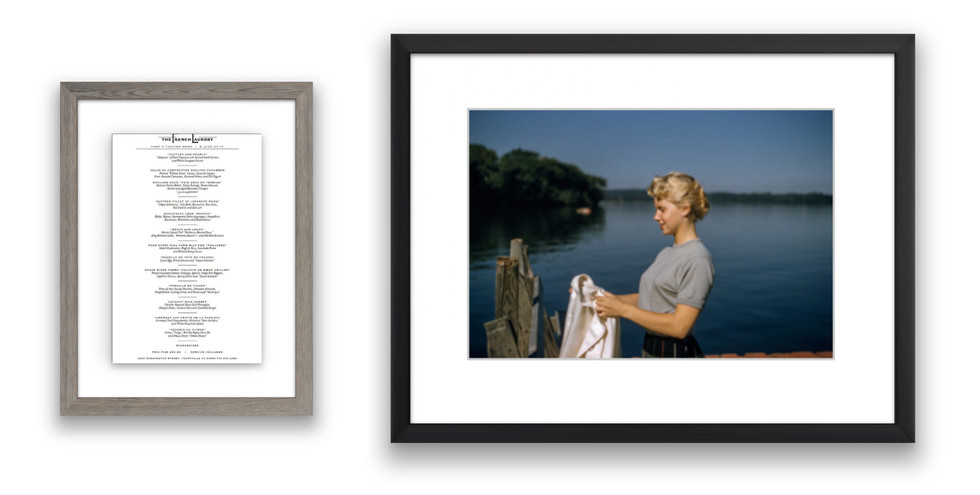 Image credit: Portland Food & Drink, Unsplash (Les Anderson)
Framed Vinyl Record "At Last" by Etta James
All of the above can be custom framed exactly to your liking, without the hassle of crowded stores or "out of stock" signs.
Frame a Puzzle You Completed Together
Completing a puzzle can feel triumphant, especially when you are working together with a friend or famiiy member.
Many puzzles are frameworthy works of art on their own, and framing a puzzle is a great way to memorialize the experience.

Cali Views (by Domonique Brown) puzzle from Jiggy inside our Academie Gold frame
If you're unsure of how it works, check out our Guide to Puzzle Framing and let us know if you have any questions when it comes to selecting the frame style.
---
Whether it's a limited-edition print, kids artwork, a puzzle or your own photos, we hope that these suggestions make any gift giving occasion less stressful and a lot more fun.
Happy framing (and gifting)!