We're obsessed with providing the best online custom framing experience for your artwork and photos.

If you have an oversized item to frame or want to print and frame something HUGE for your walls, we have you covered!
This is our guide to extra large picture frames for really big posters, prints, and photos.
via @crysun on Instagram
---
Framing Oversize Artwork with Level
When framing artwork already in your possession, you have the option to receive an empty frame and insert the item on your own.
However, for anything larger than 36" x 36", we recommend sending it to us for In-Studio framing.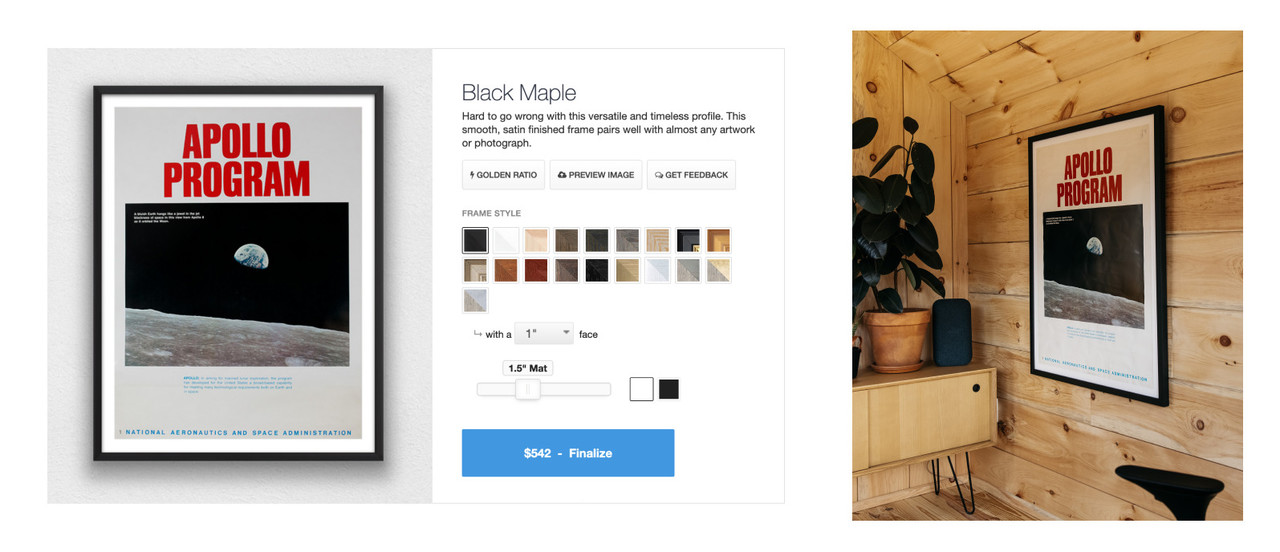 Simply enter your dimensions, design your frame and complete the order online. We will provide you with a prepaid shipping label and packaging to send in your artwork, and our framing experts will take care of the rest!
---
Framing Options
When framing an extra-large or oversized piece, a larger profile is necessary to give the frame some extra strength and rigidity.
To ensure you receive a solid frame that is built to last, our site will automatically recommend the minimum frame width based on the size of your art, and your order will be reviewed by one of our framing experts before it is handcrafted.
There is a variety of custom frame options on our site, and we will be adding more to the collection going forward.
We also offer a range of high-performance acrylic glaze available to protect your artwork.
Because reflections and glare are more noticeable on a large surface, you might consider Non-Glare or the Optium Museum glaze.
Non-glare has a matte finish which helps diffuse light to reduce reflections from surrounding light sources, while Optium Museum has an anti-reflective coating that makes it virtually invisible, and protects your art from UV rays that fade artwork over time.
Check out our guide to picture frame glaze to learn more.
---
Help If You Need It
In any case, we are here to answer questions if you are unsure of anything and can provide guidance on the recommended frame, mat, and glaze options for your artwork.
You can also submit your artwork details to generate a quote and upload a preview image to see how your art looks with each frame style.
Example framing options for KAWS Brooklyn Museum poster, TIDE, dimensions 48" x 45"
Also note that if there is an oversize print or poster you have your eye on, you can let us know before you purchase it. We can provide our framing studio address for you to have the print shipped directly to us after placing your order.
This reduces the amount of travel on your artwork and totally eliminates the need to venture out to the post office.
---
Printing
For photos that you'd like to print and frame, images can be printed as large as 48" x 96".
We inspect every file to make sure the resolution is high enough for your desired print size, and in some cases make a test print to verify. You can directly upload and frame a photo, or contact us directly for anything over 36" x 36" (or a specific print size).

When you send us your file, we will take a look and let you know the maximum print size based on its resolution and PPI. We have a printing team dedicated to making sure your framed photos look their best.

Each one of our printers is color calibrated so that the images are always consistent with respect to color accuracy (note that the final result may look different from what you see on your screen).
For our customer photos as well as fine art prints that we produce for artists, we use archival paper and pigmented inks which are recommended for longevity and guaranteed not to fade even in direct sunlight for 100 years by Canon and Epson.
You can find sites and services that print oversize photos for much cheaper, but beware of solvent and dye-based printers; your images will print less crisply and will fade away over time.

Check out our FAQ for additional information on printing.

---
Shipping
Most oversize frames can be handled by FedEx and UPS, so we pack them with extreme care and ship them right to your door, for free.
However, in some cases, a frame might exceed our shipping carriers' maximum dimensions. That's part of the reason you'll notice that for our In-Studio framing option, you are unable to enter dimensions higher than 48" and are asked to instead fill out this form.
For items over 48", we have additional art courier options if you are custom framing in New York. If you live in parts of New Jersey, Connecticut, or Pennsylvania we also may be able to hand-deliver your frames via art courier. This can be more convenient compared to shipping carriers in some cases, so we may also suggest this option even if your frame is below the maximum size.
A vintage print too big for FedEx but no problem for our experienced art couriers
---
Some of Our Favorite Oversize Projects

via @chrisbehroozian on Instagram

Via @thefarmersdog on Instagram

Via @ingmarchen on Instagram

58" x 42.5" photos framed by Level for an Unsplash event at Apple Montreal
---
Questions?
Framing extra-large, oversized items creates a few different variables and considerations due to the size, but we're here to help.
If you already have a project in mind, you can start framing here or reach out with any questions via the chat bubble at the bottom right or via hello@levelframes.com.
We look forward to helping on your next online custom framing project and many more to come!