Hanging new artwork on a bare wall is a great feeling, but it can be a challenge to find something you like enough to frame that's also within budget.
Enter this useful list of online resources we've put together for free, high-resolution images available for download and your custom framing pleasure.
---
John James Audubon's Birds of America was printed between 1827 and 1838, featuring over 400 prints based on the artist's original watercolor paintings.
The National Audubon Society has recently made every single one of these iconic illustrations available to download for free in high resolution (with a newsletter signup).

The Arctic Tern, the Great Blue Heron, Little Sandpiper, the Red-shouldered Hawk - they're are all here!
Find your favorite, and then upload the file to us for printing and framing.

Ruby-throated Humming Bird framed in our Academie Gold 3/4" profile
This one might be a little out there, but there's at least a little space nerd inside all of us. Indulge your inner astrophile with NASA's incredible trove of images covering everything from moon landing to earth rising.
"Moon Landing" and "Earth Rising" custom framed in our Black Maple profile
If you're more into stylized and colorful posters, NASA's JPL has published a stunning set of space travel posters.
Choose your favorite planet to print and custom frame so that you can space out anytime.

If you're looking to immortalize a piece of New York history or one of the treasures collected by this great institution, the NYPL has built a living database of prints, photographs, maps, manuscripts and more, with new images added every day.
Some of our favorite finds are old maps of the city that take us back in time, like the one below, and this collection of historic photos from around the United States.
Custom framed map and woodblock print from the NYPL
Note that you can choose between a Matte paper with a flat, texturized finish with little to no glare, or our Lustre paper which is slightly glossy with a subtle, pearl-like texture. Read more on how we make sure your photos are printed to look their best before we handcraft the frame to fit.
If you find the ins-and-outs of history's most iconic inventions of interest, take some time to pore through this search engine for patents.
Framing these drawings is a unique way to add some technical flair to any wall. They make great conversation pieces as well.

If you're not in the mood to go hunting through the archives, we've curated something of a greatest hits list in our Iconic Patents Collection featuring world changing inventions such as a watch for dogs, the Rubik's Cube and this concept from famed inventor (and guitar wizard) Edward L. Van Halen:
Musical Instrument Support patent issued to Edward L. Van Halen in 1987. Available in the custom frame of your choice.
The Library of Congress is a remarkable repository of our nation's history and culture. One particular collection they've curated and made available as free, high-res downloads is this group of frameable vintage travel posters.
The Library of Congress has a pretty extensive collection of downloadable maps as well.
Unsplash is a source of freely useable images, crowdsourced from talented photographers across the world.
One of the best things about Unsplash is that the images are available in incredibly high resolution, meaning you can print and custom frame these photos as big as you like (within limitations of course; check out our guide to framing oversize photos and art for more details).
image credit: Glen Carrie
They also have a great search feature and curated collections that cover themes like architecture photos, travel photos, fashion photos, nature photos and much more.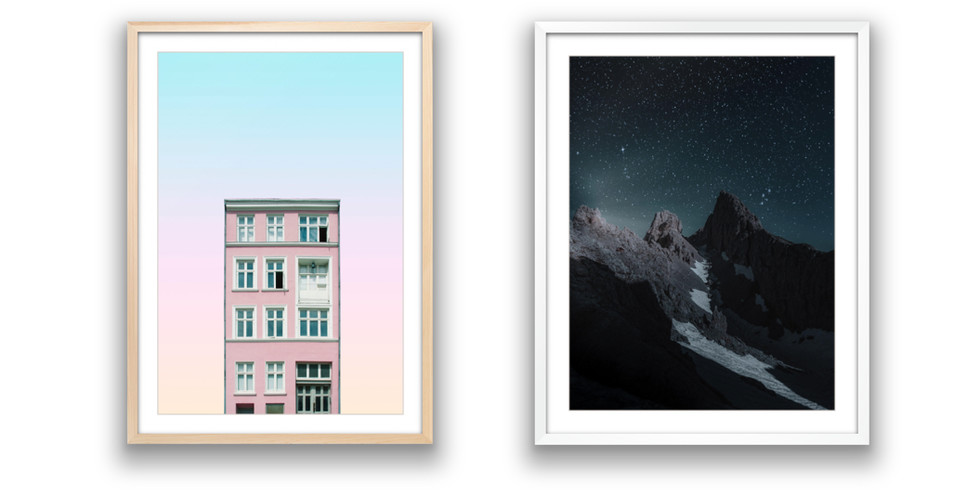 image credits: Simone Hutsch and Eberhard Grossgasteiger
What is public domain? It's a term used to categorize works of art or literature that were either created before copyright existed, or have been around long enough that the copyright has expired. In other words, you are free to use them however you like!
Rawpixel has curated a brilliant set of public domain images and offers a very high-resolution image file for each.
The Great Wave off Kanagawa (remix) by Katsushika Hokusai, custom framed in our Nickel profile
Adorn your walls with some of the greatest art ever produced with these masterpieces from artists like Vincent van Gogh, Georges Seurat, Gustav Klimt, Katsushika Hokusai, Paul Gauguin, Vermeer and many others.
---
Not only are all of these sites fun to browse, they're a first step towards filling your walls with framed artwork that suits your style without breaking the bank.

Once you've chosen your top picks and downloaded the images, see how custom framing online can help you get them up on your wall in a week or less.
Whether it's a centuries old masterpiece, limited-edition print, kids artwork or your own photos, Level Frames can help you custom frame it online. Join today for exclusive rewards.

Happy framing!