Your phone or computer may be filled with amazing photos, but narrowing down your favorites to print and frame can be a tough task.
To make things easier, we've designed a range of collage picture frames and given you the power to design your very own layout featuring your best moments and memories.
It's the easiest way to get multiple pictures professionally printed and framed exactly to your liking.
The Photographers Trio collage frame - three photos in an asymmetric layout
Since introducing collages into our online custom framing service, we've seen countless beautiful designs and wonderful photographs.
Inspired by our customers and what they've been framing, we've updated our layouts (with more to come) and re-designed the custom collage builder that lets you create something totally unique!
Brand New Frame Styles & Features
The Level 3, our most popular design with three 5" x 7" photos either vertically or horizontally, still anchors our collection of collages.

The Level 3 collage comes in your choice of orientation and frame style
And now we've expanded the number of curated layouts to go beyond three photos and include grids as well as asymmetric designs.


Clockwise from top left - The Photographers Trio, Square Grid, Phi and Showcase Six collage frames
We're rolling out more layouts and love hearing ideas for designs from our customers, so check back to see what's new or drop a line if there is something you'd like to see.
And perhaps most exciting is the new, totally custom collage builder that puts you in control of designing every aspect of the frame before uploading your photos for printing and framing.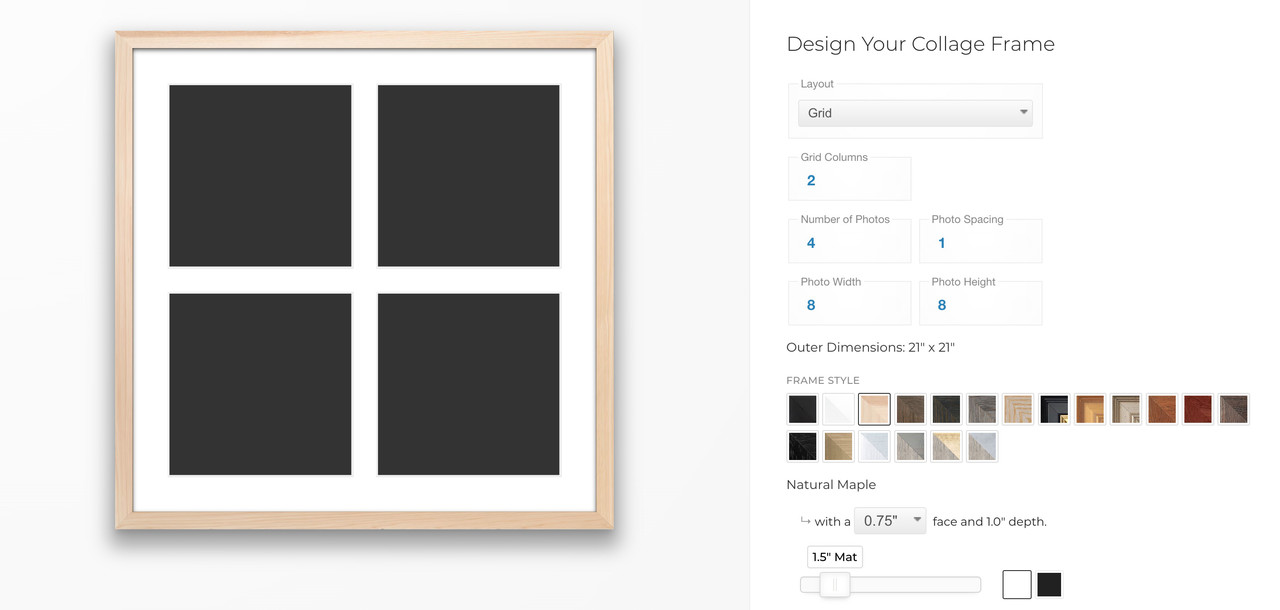 Select the number of photos you want to feature, the layout (Horizontal, Vertical or Grid) and then determine how big you want each print to be. You can even set the distance between the mat window openings, and amount of matting around the images.
We can't wait to see what you come up with!
Short on ideas for what to put inside one of these designs or your own custom layout? Here are a few themes you can use to pull together photos inside a single, stunning picture frame.
---
Your Favorite Vistas and Adventures
Pictures from your travels need to be off your devices and up on the walls!
For the avid adventurer with a camera roll full of enchanting landscapes and breathtaking views, a collage frame is the perfect way to visualize your experiences.
Display these moments from one window to the next, like portraying the same sky at different times of the day, or summarize trip highlights into a single frame, made with museum-quality ingredients.
Photos by Andrew Small, Jeremy Bishop, Liane Metzler, and S. Sahay, framed in our Black and White gallery frames.
Before the frame and mat are handcrafted to fit, we take extra care and attention when printing your photos to make sure each images looks its best.
Magical Moments Spent Together
Whether it's happened or is yet to come, one of life's momentous occasions is your wedding day. Fortunately, it's usually an event well-captured by professional photographers and guests alike.
Framing your wedding photos should be an easy and joyful process, and is another occasion well suited for collage frames.
As with any printing and framing project, we use only the highest quality wood frames and archival materials to ensure your memories stand the test of time

Photos by Caleb Ekeroth and Anne Edgar, framed with our Academie Gold profile
Along with weddings, we see many of our customers design thoughtful frames for their significant others around anniversaries, Valentine's Day and other romantic holidays.
But who needs an official occasion? Surprise your better half with a collage frame of happy memories, and experience those special moments of your relationship every single day.
Memories and Nostalgia
Most parents will tell you that children grow up way too fast. Our advice: take more pictures!
For Mother's and Father's day, it's heartwarming to see adorable baby pics and cheery family photos getting printed and framed.
Gift your parents a collage frame filled with "long lost" baby photos of yourself, or newer ones of your own children and witness the beams on their faces. Smiles guaranteed.
Photos taken by Gabby Orcutt and Janko Ferlic, framed in Natural Walnut inside our Big Four collage frame
Fun-Loving Family and Pet Portraits
Portraits can be beautifully intimate, but don't be afraid to have fun and take some candid shots. Family portraits look splendid in collage frames and allow you to incorporate multiple takes.
Don't forget to include the family pet -- let's be honest, every day is a photo day for pet owners.
Photos by Brooke Cagle and Andrew Branch, shown in our Hazelnut and Academie Black frame styles
Mix and match your favorite smiles and silly faces to come up with designs you'd be more than happy to have up on your walls.
Framing for Major Milestones and Special Occasions
For most big events in life, we know there's a camera snapping away in the background. When graduation season comes to an end, there's nothing more satisfying than delivering framed photos to proud parents of their graduates in caps and gowns.
These moments don't last forever but events like birthdays, memorable trips to foreign countries, and sporting events can be relived each and every day on your walls.
Photos by Juan Ramos, Felipe Dolce, John Towner, and Stacy Wyss, framed in our White gallery and Weathered Grey frames
Enabling you to include the right photos in the frame of your choice is what custom framing online is all about.
Our Most Popular Frame Styles
You always have the option to start from scratch and design your own collage.
But if it's more helpful, you can see what other people have been framing (including but also beyond collage frame layouts) in our growing collection of popular frame styles:
What Goes Into Each Framed Photo & Collage
Level frames are made in the U.S. to museum standards, using archival ingredients to properly cherish and preserve your precious photos, posters, and prints.

Each frame is unique to you, handcrafted to order by a master framing team and shipped right to your door with the necessary instructions and hardware for hanging - all you'll need is a hammer and the right wall space.
Adding a mat to the your framed photo protects and enhances your picture. We use 4-ply, acid-free, conservation mat boards from Crescent in our collage picture frames due to their aesthetic and archival qualities. Custom mat colors are available by special request.

For the glaze, we use acrylic instead of traditional glass due to its lighter weight, strength and clarity. Choose from premium acrylics including UV protective glaze as well as a Non-Glare option that diffuses light to cut down on reflections.

Top-of-the-line Epson and Canon printers equipped with archival pigment inks ensure excellent color performance and the best print-quality when we frame your photos.
See the entire process from start to finish:
---
Feel inspired yet? You're bound to find some gems in your treasure trove of photos.
What story will you tell inside your collage photo frame?
Happy framing!