New photography lovers and seasoned pros alike can probably relate to the feeling of being at a bit of a creative standstill, whether it's not knowing what to photograph of, or just wanting to step outside what's familiar. To help with this, we've put together this list of five ideas to stir up some inspiration to hopefully get some new and creative photos up on some walls.
---
1. Recreate The Past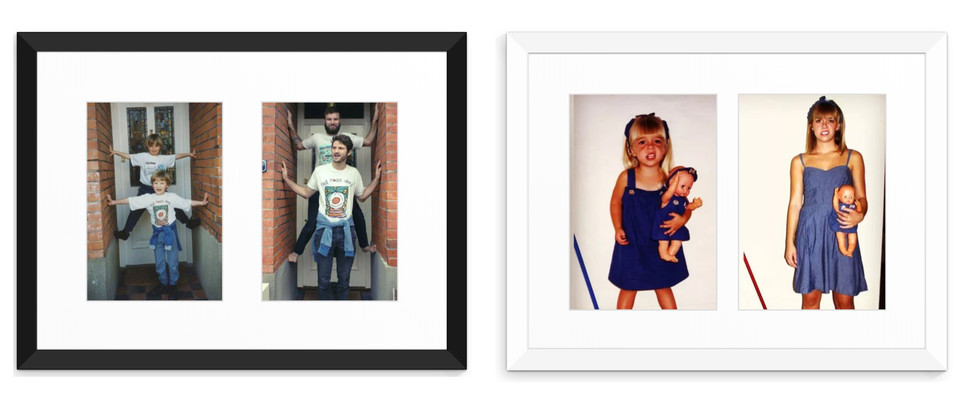 Image source: Pinterest
Everyone loves looking through old photos, even if they can get pretty cheesy and embarrassing. After all, there's nothing quite like seeing yourself in the clothes you'd like to forget you ever wore, making inexplicable faces, surrounded by younger versions of your family and friends. Choose and reenact your favorite family photo, recruit friends you've stayed in touch with, or just go it alone. This fun project allows you to briefly relive those awkward early years, but you'll also need to put some thought into replicating the clothing/props from the original photograph. No matter what, you're bound to end up with some memorable shots that are prime candidates for a collage frame (a perfect personalized gift idea).
2. A-Z

Image source: Unsplash [Artists, clockwise: Joseph Barrient, Nathan Hulsey, Kari Shea]
Ever thought about using the alphabet as inspiration for a photo shoot? If not, there's no time like the present. Find subjects for this project in the comfort of your own home, or get a little more ambitious and really turn it into a hunt. Either way, you'll end up with some totally frameable photos of things that might have otherwise faded into the background of everyday life.
3. The 52 Project
Image source: Unsplash [Artists, clockwise: Andre Benz, Matthieu Joannan, Louis Lo]
One picture per week for a year. It may not sound like much (and you can always do more), but sticking to the assignment might help you be a bit more intentional with your subject matter. Plus, if you think about it, chances are you've already done this by accident. Scroll through your camera roll on your phone, and you're likely to find that you've been documenting more moments than you thought. This project gives you the chance to be a little more aware of what you're capturing and when. Then, at the end of those fifty-two weeks, you'll be left with a gorgeous snapshot of a year in your life with the people and places you love.

4. 20 Strangers
Image source: Unsplash [Artists L-R: Abigail Keenan, Ayo Ogunseinde]
In the age of the smartphone, few people can say they really interact with many strangers on a daily/weekly/monthly basis, aside from transactional moments like paying for your morning coffee. With this project, you're forced to step outside your social comfort zone and attempt to connect with people you'd otherwise never know, through the lens of a camera. Choose your locations well for this project, since they will determine how interesting your backdrop is (or isn't).

5. Pick A Theme
Image source: Unsplash [Artists, clockwise: Alice Donovan-Rouse, Autumn Studio, Jean-Philippe Delberg]
This one is pretty self explanatory: pick a theme, and stick to it when shooting your photos. It can literally be anything; street art, interesting lighting, animals. Once you're done, you can pick your favorites and create a totally personalized photo series for yourself, or as a gift. If you end up with a bunch you love enough to print and frame, you can also try your hand at creating your own gallery wall. This is a great exercise for people just getting into photography, because not only will it help with branching out into new subject matter, but it's also a good way to start developing a style of your own and figuring out your favorite things to photograph.
---
In our opinion, the best thing about these projects is that you don't need to be an experienced photographer or have an expensive, high-tech camera to take them on. All you really need is a passion for capturing beautiful images (and something that takes pictures, of course).
If this post inspires you and you find yourself with a collection of photos you love, be sure to check out Level Press where you can create a free online portfolio of your work, to showcase and even sell!