Some gallery walls begin with a single framed photo, and expand over time as new pictures are printed, framed and placed around the original.
The other way to go? Transforming your walls in a single shot by dropping in a full compliment of your best photos, expertly framed and grouped together in a cohesive display.
We're big fans of both approaches, and we've just made it easier to create the perfect gallery wall layout for any space.
Our new gallery wall designer lets you pick a pattern that's right for the size, shape and location of your wall, upload your photos, and customize all of the frame styles to your exact liking. Design your wall of frames in a few minutes, we'll deliver it right to your door, ready to hang within a week or two.
Below are the first ten gallery wall layouts we've curated, ready for you to customize and bring into your home.
We'll be adding many more over time, so stay tuned and please let us know if there is a particular design or pattern you would love to see!
---
Gallery Grid
Four 15" x 15" frames that cover about 33" x 33" of wall space when grouped together
One of our most popular frame styles, the Gallery Square offers a 4" wide mat that creates extra focus on your photo inside the 15" x 15" frame.
Create added impact to any room by grouping them together in a grid layout like this, or stack them horizontally or vertically.
Small Organic
Four framed photos that cover about 39" x 41" of wall space when grouped together
Break away from our more linear layouts and customize this gallery wall with four of your best pictures.
The seemingly random pattern makes it easier to group unrelated photos together, but the final design has a nice cohesiveness that fits nicely into spaces around 4' by 4'.
Choose from a wide range of frame colors to match your decor and complement your space. You can keep the colors the same across all frames, or mix and match!
Farmhouse Duo
Two 18" x 36"frames that cover about 38" x 36" of wall space
A great design choice for oversized framed portraits and a modern way to decorate the living room, entryway or hallway.
We love this layout in our Weathered Natural, Grey and Black frames, but you can choose your own frame color from a wide variety of styles.
And if you have the wall space, you can add a second set and hang them all together, or add just one additional Modern Farmhouse framed photo to create a trio.
Large Portrait Trio
Three 23" x 29" frames that cover about 73" x 29" of wall space when grouped together
This is a timeless style and a great way to spruce up wide spaces above the couch, in the living room, down hallways, or anywhere else you want to create serious visual impact.
The 18" x 24" prints are set inside the frame of your choice and pulled into focus by a border of matting. Black or white frames look great in this layout and never go out of style, while our wood tones can create a softer look for your favorite family and travel photos.

Easy Trio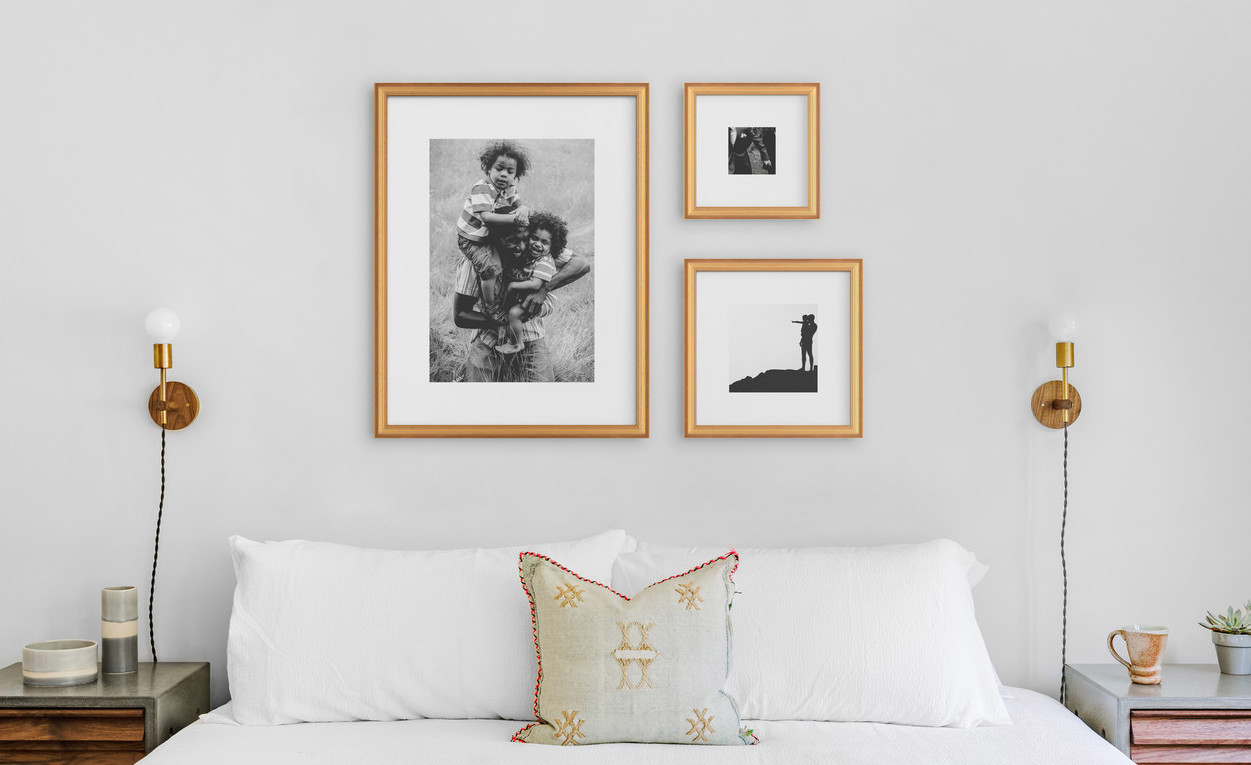 Three framed photos

that

cover about 30

" x 21" of wall space

when grouped together
Our next gallery wall layout with three frames delivers frames in a few different sizes to create an asymmetric yet balanced look.
It's the perfect complement to cozy nooks and above beds, entryway tables and other medium sized furniture. As with our other layouts, the ultimate frame choice is up to you, creating tons of possibilities to style this design to fit your home and photos.

Mini Triptych
Three 17" x 17" frames that cover about 17" x 55" of wall space when stacked vertically
What's unique about the Mini Triptych is that the 17" x 17" frames house a miniature 4" x 4" print size, allowing you to blend snapshot-style images with the rest of your art and photography seamlessly. A popular use for this gallery wall design is uploading pictures directly from your Instagram feed.
The square size of the frames provide a lot of flexibility when it comes to hanging. You can stack vertically, horizontally, or order two sets and create a six-by-six-grid.
Compact Triptych
Three

13.5" x 16" frames

that

cover about 48

" x 16" of wall space

when grouped together
We created this layout as a compact version of our Large Portrait Trio.
It's a gallery wall sized to feature three of your favorite framed photos above desks, consoles, and small sofas.
It also works when hung vertically to fill a narrow space, and you can select from a variety of frame styles to perfectly complement your decor.

Short Stack
Two small framed photos

that

cover about 16

" x 25" of wall space

when grouped together
Pair two photos in this simple stack that's perfect for filling small spaces with favorite moments and memories.
The asymmetric sizing adds some visual variety and panache, and you can customize your frame style with two classic profiles.
Make them both the same color, or go with one of each!
Tall Stack
Four framed photos

that

cover about 20

" x 60" of wall space

when stacked
Have a tall but narrow wall space you're not quite sure what to with?
Fill it up with your favorite framed photos using this organic yet cohesive layout that mixes a variety of frame sizes and styles. The best part is that you can customize the frame colors to your exact liking and hang them in any order you see fit!
Big Organic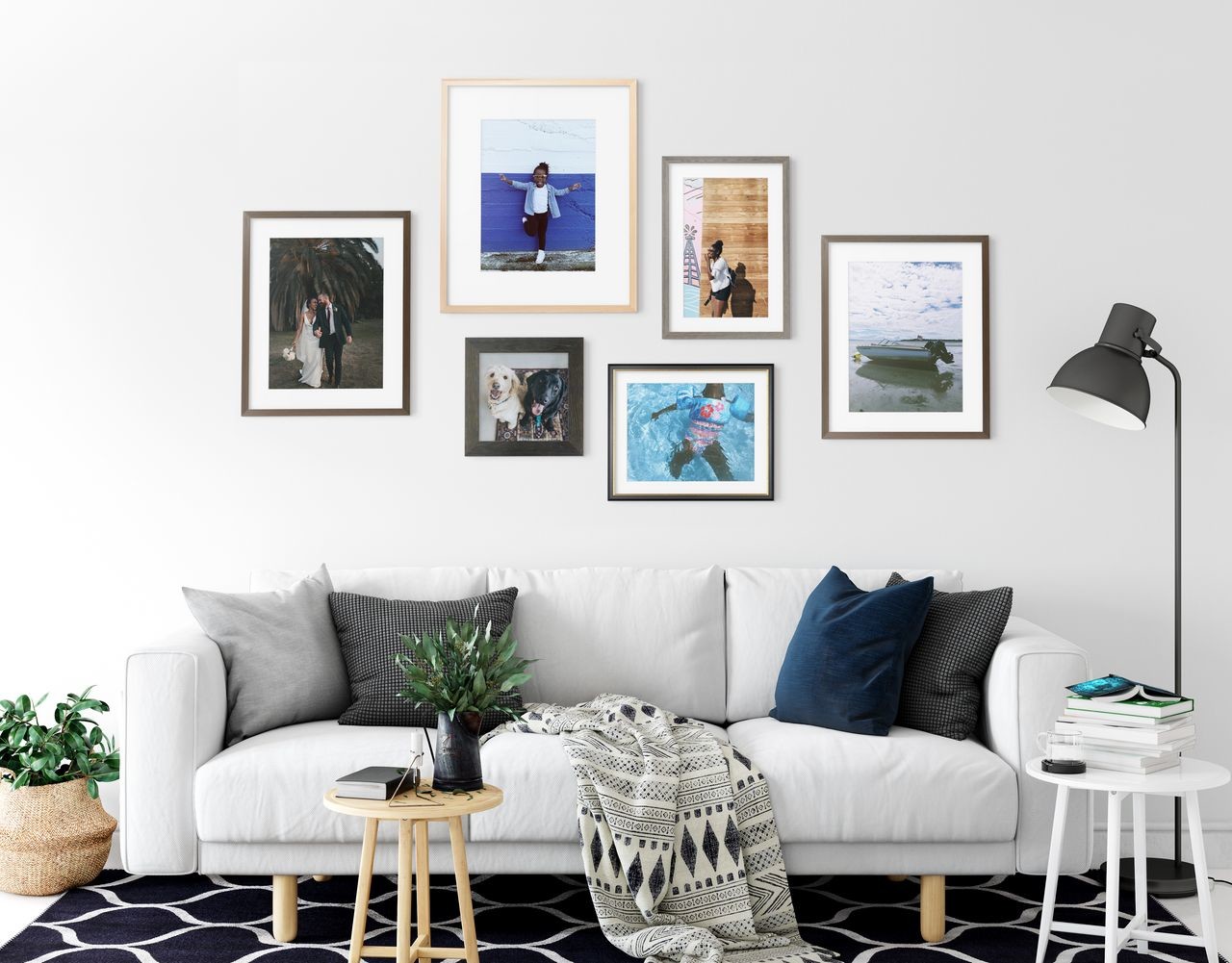 Six framed photos that cover about 75" x 43" of wall space when grouped together
Create an epic and expandable gallery above the couch or on any other prominent wall with this eclectic mix of frame sizes and styles.
The final design fits nicely into spaces around 8' by 4', and is sure to become a focal point and conversation starter in your home.
One of the nice features of an organic pattern like this is that you can easily add to it over time with new framed photos nestled into the overall shape. Build the ultimate gallery wall of your favorite people, places, moments and memories!
---
We know that for gallery walls that will be seen and enjoyed around your home, the first step is selecting artwork and photos that hold special meaning.

We'll help you custom frame these items to look their best and last for decades to come, so that your gallery wall showcases your and your family's best memories and moments.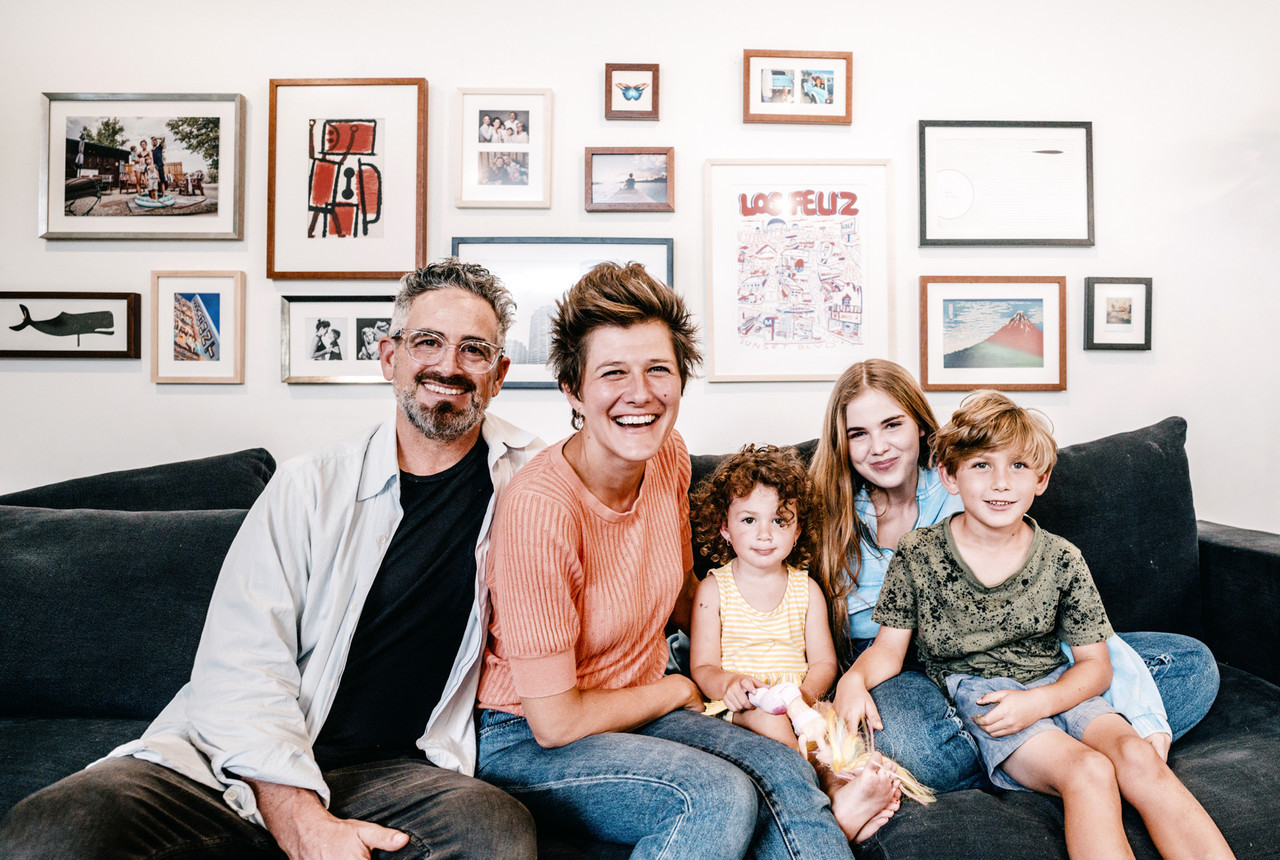 Happy framing!