It's the first annual Level Frames Go Wall Out Summer Event!
Beginning today but only for a limited time, frame three or more items for an automatic 15% off across your entire order.
Save on anything you frame up when you go wall out - artwork, photos, collages, vinyl records and more.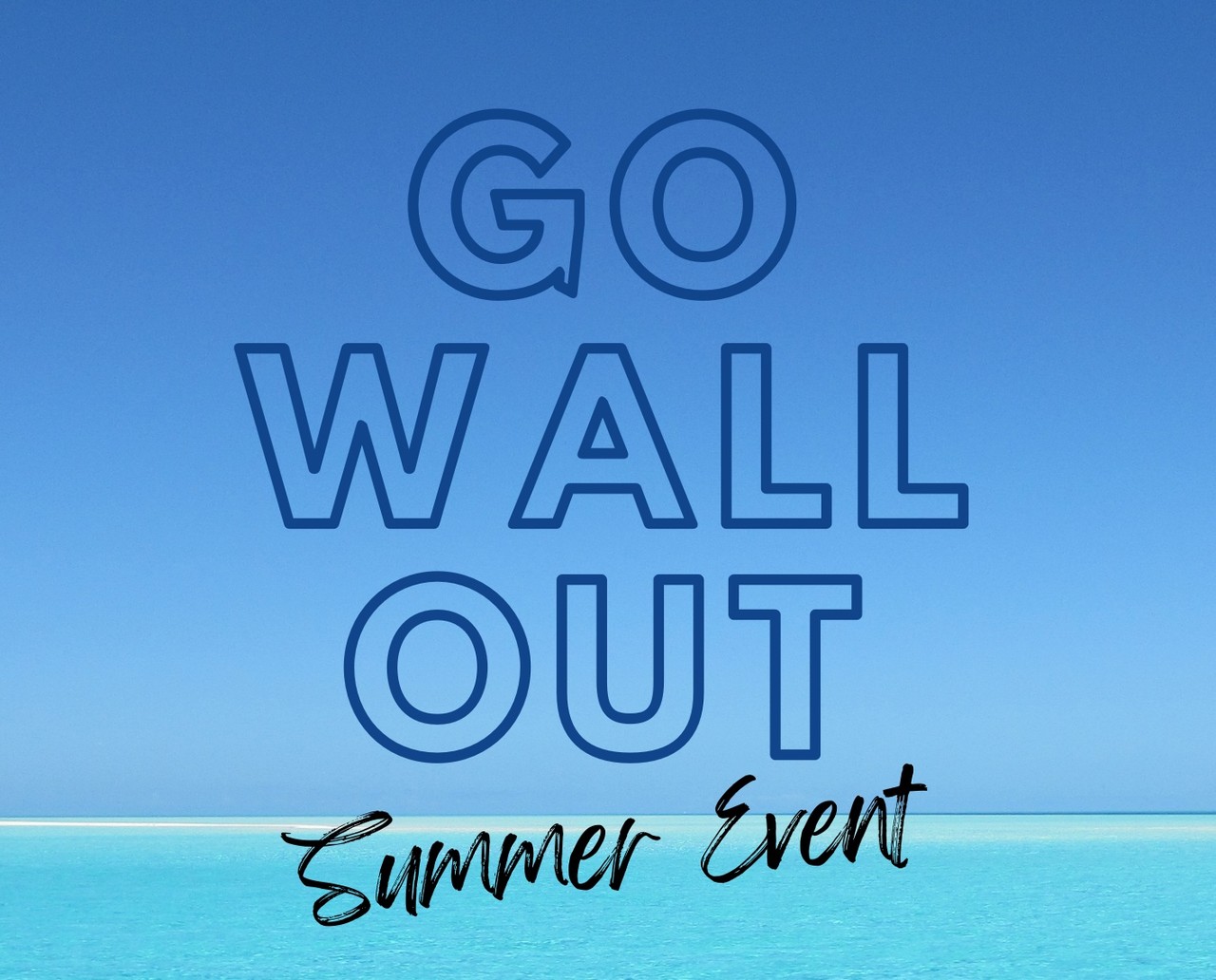 New Product Alert!
If you can't come up with enough items to reach that magic number, add in one (or several) of our brand new framed memo boards in the size and style of your choice.

We've paired premium chalkboard, whiteboard and corkboard surfaces with our selection of gallery-quality profiles and customization options.

Choose a surface, enter your desired size and customize the frame with a museum-quality profile.

It's now easy to design a beautifully framed chalkboard for that empty space next to the fridge, a corkboard for your art room, or a whiteboard as the finishing touch in a home office.
Top Ideas for Going Wall Out
It's the perfect time to frame online and fill up empty wall space with your most special memories and moments. We've compiled some of our favorite ways to take advantage of this special event.
1) Go big on a gallery wall
A beautifully framed photo or piece of art stands on its own just fine. But when the wall space allows it and you are ready to make a bigger statement, there is nothing like a well-curated gallery wall mixing framed artwork, photos and other mementos.
The great thing about gallery walls is that they don't have to be static. As you collect new frameworthy pics and artwork, you can expand upon the layout or shake up the design to keep things fresh.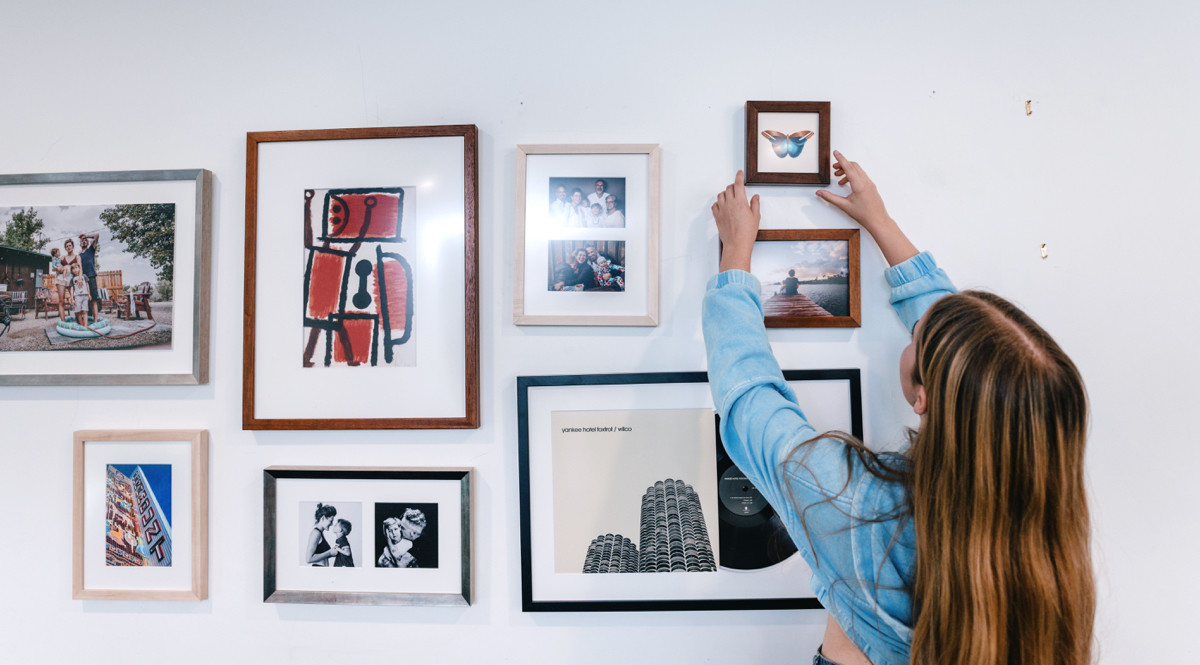 We have a number of popular gallery wall layouts if you are ever in need of inspiration. And with custom framing, you are in full control of the size and style of your design.
2) Send framed gifts
Frame something special to create unique and thoughtful gifts.
It could be an amazing family photo you want to send to all of your relatives, or an inspirational framed print your entire team would appreciate.
To make it even easier, we've curated a number of popular frame styles perfect for gifting and designed to meet deadlines. You supply the photo and custom frame, we'll print, frame and ship using the same premium materials you'll find in everything that leaves our studio.
We'll even complete your framed photo gifts by wrapping them in quilted kraft paper and enclosing a personalized note with your message.

3) The home office upgrade

If you've been able to work from home and have optimized your work space in every which way except for what's on the wall, why not spruce up the view with online custom framing?
Framed photos, collage frames, vinyl records and of course our new framed memo boards are great options.
You may also want to consider inspirational artwork that helps keep you focused and in the zone, like these framed Joey Roth art prints that explore the creative process.
4) Pick up (or download) some new framed art

There are so many great places on the internet to discover and support new artists.
In the past, acquiring a new piece meant that your work was not yet over; you still needed to buy a frame or take the print into the custom frame shop.
With online framing, you can usually take care of the frame at the same time!
A print from Framed Ringers: The Rinkeby Sessions collection by Dmitri Cherniak
When you browse our featured artists, the custom framing option is built right in so that your new artwork arrives looking great, fully protected and ready to hang.
There are also some solid sources of free, downloadable art that you can upload with us for printing and framing.
5) Bring music to your walls with framed vinyl records

Several years ago, we were inspired to honor the art form of album cover art with a unique method of framing vinyl records. The actual album cover shows in full, while the record peeks out of its sleeve.
These framed albums are a great addition to any gallery wall, and work especially well when displayed in multiples.
Browse our curated set of albums, or let us know your favorite artist or record and we will track it down for you.
You can also order a frame for a record you already have on hand - we'll send you our DIY record framing kit and you'll have it up on the wall in no time!
6) Framed memo boards in any size and style you like
As mentioned above, our newest framed product makes it easy to design a beautiful framed chalkboard, dry erase board or corkboard in whatever size, shape and style that you like.
Take advantage of the Go Wall Out event and order different surfaces to display and use in different rooms.
In addition to helping you organize shopping lists, appointments and other to-dos, these boards are a fun way for households to share inspirational messages and silly doodles.

7) Frame up and protect the artwork you've been collecting
Finally, we'd be remiss not to mention the use case for which Level Frames was created in the first place.
If you have a growing collection of prints and posters but all of them seem to be stuck in the original shipping tube or stashed in a closet somewhere, now is the time to frame them!
With online custom framing, you can design a frame to fit your artwork and have the frames shipped to you, or send in your entire collection and let us handle the framing in our studio.
Either way, we've made the entire experience more convenient, affordable and intuitive so that you can enjoy more framed artwork and photos on your life.

---
The Go Wall Out Event is happening now, but won't last forever.
It's a great time to take on framing projects you've been meaning to get to, or fill empty wall space with your favorite moments and memories. As soon as you add a third item to any framing order, the 15% savings will kick in on those items and anything else you add.

Happy framing!