In 1948, Columbia Records introduced the first successful long-playing phonograph.
A few decades later, the record sleeve had become one of the 20th Century's greatest canvases for creative expression. From The Beatles' Abbey Road to Nirvana's Never Mind, album covers make up some of the most recognizable and culturally significant artwork of all time.
Today, vinyl is by no means dead, but the rise of Spotify and other digital services has pulled us farther away from experiencing music and the artists we love in a more visual, tactile manner. We became inspired to honor and elevate album artwork in the way that we know best; a unique method of framing actual records such that the album cover shows in full, with the vinyl peeking out of its sleeve:
The sleeve and vinyl are mounted under specially-cut, archival, white 6-ply matting, and framed using black or white maple profiles.
What's cool is that the labels on the vinyl offer another visual element that compliments the cover art, sometimes in surprising ways.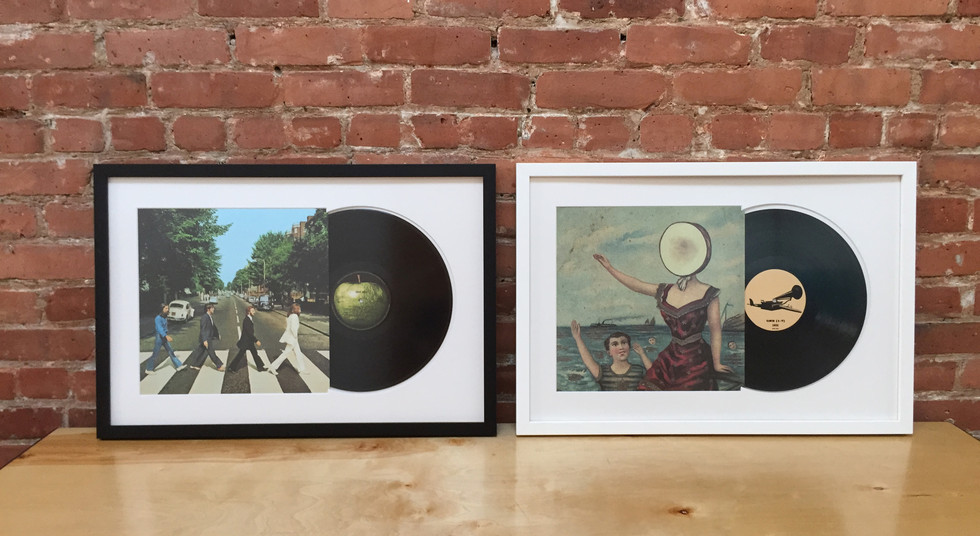 This is a just sneak peek at this new presentation. We'll be unveiling more photos and some of the top album covers of all time over the next several days, leading up to the launch of Level Vinyl.

Sign up below to get notified the moment we launch. One lucky email will be chosen at random to win the framed record of the winner's choice.
UPDATE - Framed Vinyl Records from Level has launched
Thanks to everyone who entered and congrats to our giveaway winner:
thanks for the gift @levelframes 👌🏻👌🏻👌🏻 #kurtvile #wakinonaprettydaze #vinyl
A photo posted by christopher maehr (@the_maehr) on
---
Which albums will be available?
We've been curating some of the best album artwork across a number of decades and genres. You'll find many of the usual suspects that show up on lists such as:
We also want to hear from you.
What's the one album you'll be looking to frame and hang on your wall, or give as a gift to the music lover in your life?
The best way to make sure your favorite record is available is to click here and Tweet hey @levelframes, can you frame...
We're also excited to drop some surprises from outside the traditional genres of classic rock and pop that tend to dominate cover art lists, for example:
Blade Runner Original Soundtrack (180g Translucent Red Vinyl)
---
We launched this product! Check out our selection of hundreds of framed iconic records. If you don't see what you're looking for, just reach out to us and make a request!