If you are looking for a Valentines Day gift more original than flowers and chocolates, we have a few suggestions that come beautifully custom framed.
Select the gifting option at checkout to have your frame gift-wrapped in quilted kraft paper, with an optional hand-written note enclosed.
Romance, Framed
What song was playing on the radio when you initially laid eyes on your significant other, or shared a first dance? Search for the album to order it framed or let us know what you are looking for, and we'll bring it to your wall in a way that sparks those memories each and ever day.
If you need inspiration, here are a few of the most romantic albums of all time, available custom framed and delivered to your door ready-to-hang.
One of the most popular wedding songs ever, full of romance and soul. "At Last" is the debut studio album by Etta James, first released in 1960 and making dance floors sway to this day.
At last my love has come along
My lonely days are over and life is like a song, oh yeah
At last the skies above are blue
My heart was wrapped up clover the night I looked at you
- At Last
A gorgeous and intimate record, Norah Jones' debut album carries a romantic maturity despite the fact she was only 22 at the time.
I want to walk with you
On a cloudy day
In fields where the yellow grass grows knee-high
So won't you try to come
- Come Away With Me
Consider the progression of track listings on this compilation from one of the most gifted purveyors of soul music. The album opens with "Tired Of Being Alone" and closes with "Let's Get Married", with stops in between at "Call Me", "I'm Still In Love With You", "Here I Am (Come And Take Me)", "Love And Happiness" and "Let's Stay Together". Al Green knew something about love.
And I look in your eyes
And all the years I see
Me lovin' you and you lovin' me
Well it seems to me that I'm wrapped up in your love
- I'm Still in Love With You
Released in the US in 1992, "Love Deluxe" surges with lush, ambient, joyful music carried by the incredible smoothness of Sade's voice.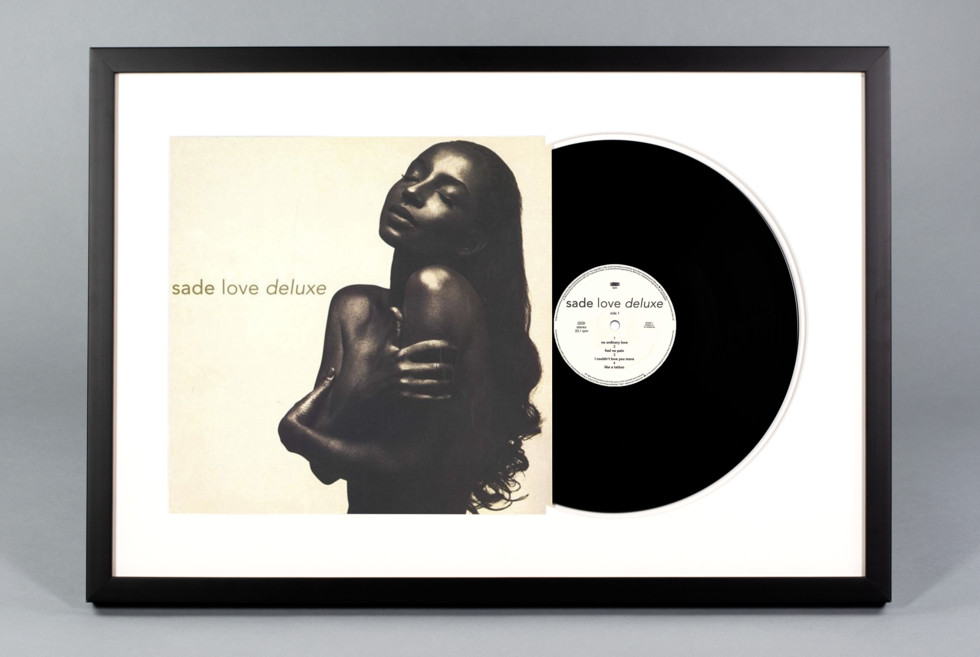 You're ruling the way that I move
And I breathe your air
You only can rescue me
This is my prayer
If you were mine, if you were mine
I wouldn't want to go to heaven
- Cherish the Day
In 1968, Van Morrison moved to upstate New York with his wife and began writing songs about nature, music, and romantic love. Incorporating soul, jazz, pop, and Irish folk sounds, "Moondance" formed the style he would become most known for in his career, and is cited by critics as one of the greatest albums of all time.
I can hear her heart beat for a thousand miles
And the heaven's open every time she smiles
And when I come to her that's where I belong
Yet I'm running to her like a river's song
-Crazy Love

About Custom Framed Vinyl Records
Album covers are some of the most recognizable and culturally significant imagery of all time, inspiring us to honor and elevate this art form with a unique method of framing actual vinyl records.
The album cover shows in full, while the vinyl peeks out of its sleeve. All wood profiles, archival matting and premium, non-glare acrylic are used to finish each custom framed masterpiece.
Find your favorite record or let us know if it's missing. And if you have a special record already that you don't want to send through the mail, you can frame it at home with our DIY record framing kit.
About Level Frames
We are making it more convenient, affordable and intuitive to custom frame artwork and photos.
Whether it's a 5"x7" postcard, an oversize poster or your own personal photos, we provide online custom framing to help make your walls look amazing. Each frame is handcrafted by a master framer with over 30 years of experience, guaranteed to fit your artwork, and ships right to your door.
Learn more about online custom framing for posters, prints and photos.