Surrounding yourself with framed photos of your favorite moments and people is one of the easiest ways to bring happiness into your home.

We've got multiple ways to frame pictures from your phone or camera, and can deliver them to your door ready-to-hang within a week.
Whether it's an image from your wedding, photos from an unforgettable trip, a family portrait session or any other subject that brings you joy, online framing has you covered!
---
Create Gallery Worthy Framed Photos
Image credit: @timothymollen
First, find the most epic or inspiring image in your collection. Or, select a picture melts your heart and brings a smile to your face.
We provide an easy way to upload your photo for printing and framing, with options to select the file from your device, Instagram, Facebook or Dropbox account. Depending on the resolution of the file, we can print and frame all the way up to 40".
The fun part is customizing the frame and mat style.

Choose from a selection of profiles ranging from classic to rustic, and add matting to create the dramatic effect you are looking for.
Once you've finalized your frame style and checked out, your framed picture comes together in our studio at the hands or our expert team of craftspeople.
---
Combine Multiple Photos Into a Collage Picture Frame
If you're having a hard time deciding which photo to go with or want to tell a story using multiple pictures, create a create a collage frame with up to five images.
Once you've uploaded your photos, you can click and drag them around to change the order, and choose the exact frame and matting style that works best with your pictures.
As is the case with any of our framed photos, we are meticulous about making sure your photos turn out perfectly.
You can go totally custom and design the size and shape of your collage frame, or browse the different collage layouts among our most popular frame styles: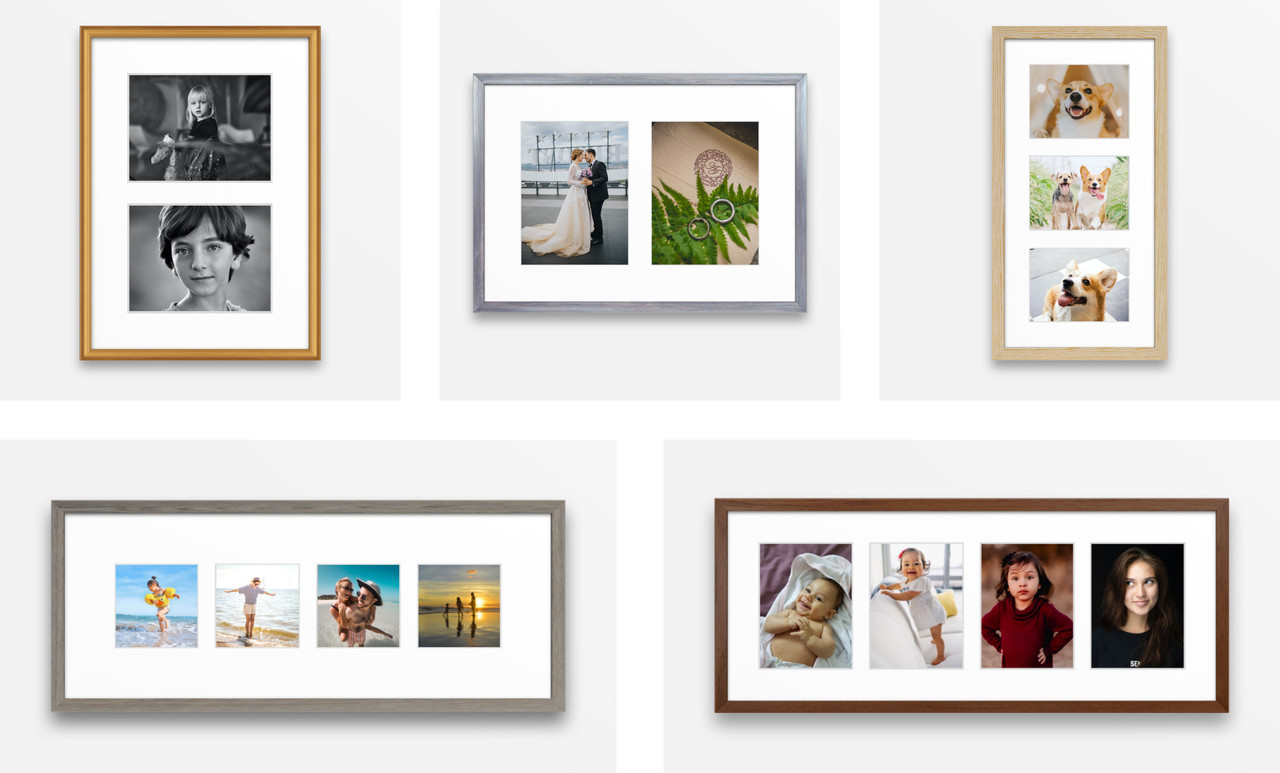 ---
Get Off the Wall With a Tabletop
Our tabletop picture frames were designed with just the right balance of size and design, and we've curated a range of profiles to bring out the best in any photo.
These super giftable frames stand on any flat surface and can also hang on the wall.
At $49 for the first frame and just $39 each after that, it's a great way to get started on an epic gallery wall and another way in which online custom framing makes it easier to celebrate the things you love.
---
Frame a Picture You've Already Printed
We specialize in printing your digital photos, and even provide this service for artists and photographers selling framed versions of their work.
But if you have your own photos already printed, or a shoebox full of prints that go back years, we can frame those as well!
Simply enter the outer dimensions of the photo, and customize a picture frame to fit.
We can send you the empty frame with everything you need to frame your picture at home, or you can send it in to our framing studio.
With either option, you get the same, museum-quality materials you would find in any high end frame shop, at a fraction of the price and a lot faster turnaround.

So whether its for an amazing digital image or a treasured print you've been waiting to get on the wall, we're going to hand-craft a beautiful custom frame using all-wood profiles, museum-quality matting and crystal clear acrylic.
It's a great way to celebrate the things that make you happy every day.
And once you've mastered these framing techniques above, you can try your hand at pulling together multiple frames as seen in our most popular gallery wall layouts.
Happy framing!