If you don't yet know about NFTs, we've put together a basic guide and highlighted the best ways to print and frame them.
Continue reading for awesome examples of framed apes, punks, Long Neckies, cats, Mekas and everything in between. If you've framed NFT art with us and want to share with the world, tag @levelframes so that we can see the final results on your wall!
And if you are the creator of an NFT project, reach out for special ways we can help your collectors custom frame.
---
World of Women
Image Credit: @tlaird_expivia on Twitter
These are just a few of the unique and eye-catching personalities created for the World of Women NFT collection.
Designed with framing in mind, verified WoW owners get access to super hi-res files which are perfect for printing and framing in a variety of sizes and styles.
Thomas went with a 24" x 24" print size, framed in Black Maple frame with a white mat, a classic design that works great for a multicolored series like this one.
---
CryptoPunks

Image Credit: @toddg777 on Twitter
The original NFT art that inspired the modern CryptoArt movement, CryptoPunks are a favorite of ours to frame.
These 10,000 computer-generated Punks, which were originally given away for fee, now trade for north of $1M each. Some well-known punk owners include Jay-Z (6095), Snoop Dogg (3831), Odell Beckham Jr. (3365), Serena Williams (2950), Steve Aoki (6473) and many other notable names.
The 8-bit artwork itself is simple, yet somehow an individual personality shines out from each face. Most punk owners add a 1" to 1.5" mat around the artwork, which draws additional focus to the character and bright colors, creating a classic look and some added gravitas.

Owners of multiple punks might like to create a collage frame to display their entire lineup in the same frame.
---
AnimalPedia by João Lelo

Image Credit: @lswhite81 on Twitter
A self-taught artist from Rio de Janeiro, Brazil, João Lelo is best known for his street art, which he has been creating since 1999. His works include murals, paintings, drawings, prints, and sculptures -- much of which feature animals as the subject.
This customer chose to display their collection in two Collage Frames. They chose Kota Cherry for the warm tones and Black Maple for the cool tones. Each image is printed at a 4.5" x 6" in a 20" x 10" frame.

---
Beeple Punks
Image Credit: @apluscm on Twitter
Beeple Punks combines a few of the internet's favorite things to bring you 500 unique characters: Crypto Punks, Beeple, and AI-generated artwork.
Each Beeple Punk was created by using a deep learning artificial intelligence algorithm to fuse an original Crypto Punk with one of artist Beeple's works together.

Like World of Women, Beeple Punks are also created with a real-world gallery in mind. Every Beeble Punks NFT owner has access to a super high resolution 4096 x 4096 px file that is ready to be printed, framed, and hung on the wall.
This Beeple Punk is printed at 24" x 24" and framed in Black Maple with 1.5" of white matting.

---
Long Neckie Ladies
Image Credit: @bitpixi on Twitter
The Long Neckie Ladies are a collection of 3,333 diverse women created by 12-year old digital artist Nyla Hayes. Though each one is computer-generated, they are made up of 101 hand-drawn elements, and each has an elongated neck inspired by her favorite dinosaur, the Brontosaurus!

This Long Neckie was framed in our Academie Black frame, which is the perfect accent for her raven hair and gold jewelry.
While adding a mat can give artwork breathing room and allow it to feel grounded in the frame, it's not always necessary. In this case, framing the art without a mat gives it a fine art treatment, reminiscent of a Modigliani painting.

---
Bored Ape Yacht Club

Image Credit: @Klavvius on Twitter
Bored Ape is another NFT art series that like Crypto Punks, has 10,000 computer-generated characters and over 170 traits to make each character unique.
This customer created a gallery wall with their collections which include Bored Ape Yacht Club (left), Hash Mask (center), and Meebits (right).
This is another great example of how you can use our Collage Frames to group together two or more images from the same NFT art series.

---
Ringers by Dmitri Cherniak

Image Credit: @JohnCeNFT on Twitter

One series of NFTs we've had the pleasure of framing is the "Ringers" series from artist Dmitri Cherniak.
Each of Dmitri's pieces in the series was created using an algorithm he modeled after the near-infinite number of ways to wrap a string around a set of pegs. They became a sensation in the crypto art world ( Ringers #20 recently sold on Sotheby's).
For those unable to purchase the NFT versions, Dmitri used Dot Press, our platform for helping artists sell their work framed, to sell open print editions like the one above. Each open edition features 100 of the Ringers designs in the series in a 10 x 1o grid, creating a 24"x 24" print.

---
The popularity of NFTs are certainly on the rise, and given the passion and excitement we see forming in this community we feel like it is here to stay.
That's why we built a tool for collectors to print and frame their NFT artwork.
Right clicking and saving the file from OpenSea will generally not give you good enough image resolution for quality printing, so if you don't have a good image to upload for printing and framing as a regular photo, you can connect your digital wallet to locate all artwork files associated with your NFT tokens. We'll find the highest resolution version available and provide options for printing and framing.
Give it a try with your MetaMask Wallet (we only need read only access):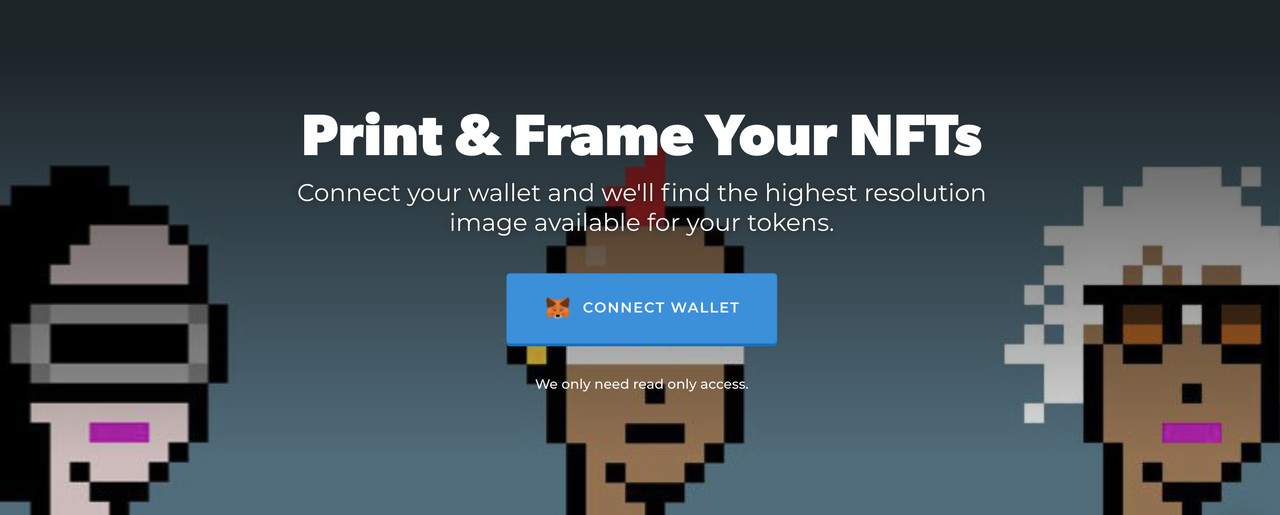 Happy framing (and collecting)!