May has arrived, and as we stay busy custom framing your favorite artwork and photos (including many items destined for Mother's Day gifts), we pause for a moment to look back at a few phenomenal feats of framing completed by our customers in April.
From locally sourced artwork to stunning family photos, watercolor prints to ticket stubs, the goal of every framing project is the same: Joy, satisfaction and pride over the final result hanging on your wall.
Continue on to view some of our favorite projects from April, or see for yourself what it's like to frame online today!
---
Float Mounted Painting with Deckled Edges
Image credit: @emmyjadedesigns on Instagram.
Artist Emmy Jade received a request from a client asking for a Native American portrait. Once completed, she used our At-home custom framing kit to mount the piece with a float treatment that shows off the deckled edges of the paper.
"Quite possibly my favorite commission I've ever done! I have been wanting to do a piece in a float frame and I love the dimension it gives the painting!"
You can find a few different ways to float mount your artwork inside our Advanced Options section.
---
Family Photos that Pop with Color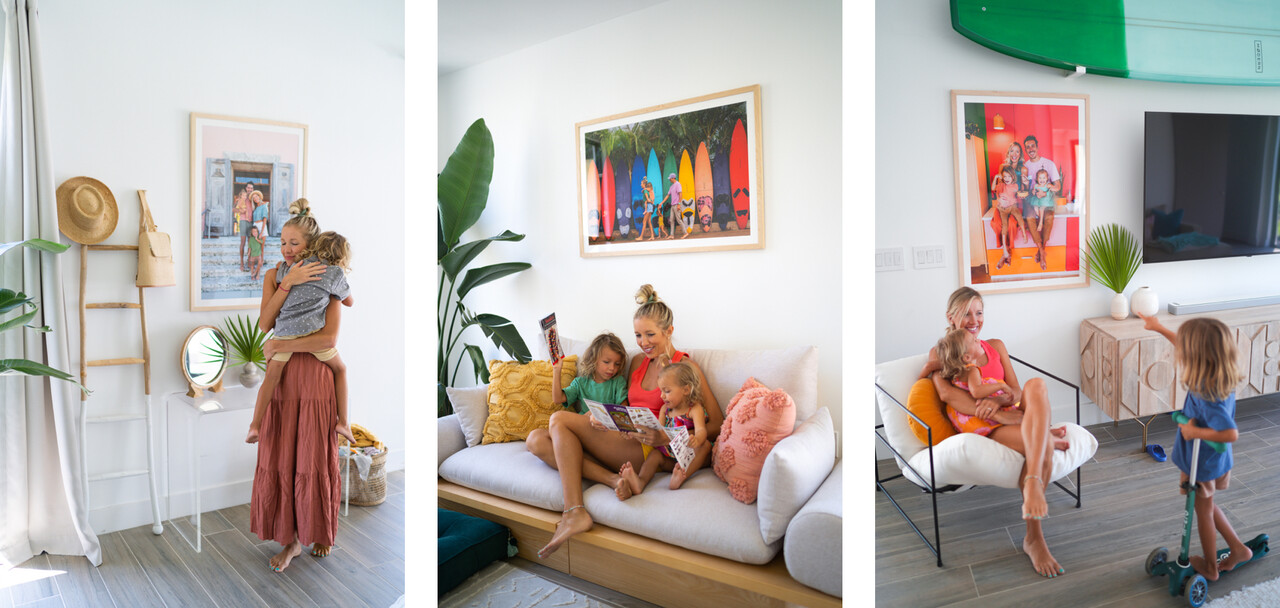 Image credit: @erinstanczyk on Instagram
Erin Stanczyk of Eat Move Rest recently put some finishing touches on decorating a new home with three, oversized framed family photos. As you can see she has quite an eye for color.
"The frames are a beautiful natural wood. We went with a little bit of a white matting to make the photos and color really pop. It was difficult to find a framing company who could frame photos this size and I really wanted large photos because our walls are enormous and our ceilings are super high. Level Frames definitely delivered above and beyond our wildest expectations, it just has totally shifted the mood in our home for the better."
Looking for an easy way to bring color and life into your home? Upload and frame your own photos, we'll have them on your walls within about a week!
---
Limited Edition Print, Signed & Numbered by the Artist
Image credit: @rand.arete on Instagram
We love framing limited edition artwork.
There is just that extra connection to the artist and the work, especially when you have their signature or an edition number on the print that conveys their direct touch and a level of scarcity.
Here we have a beautifully illustrated print from artist Scott Santee, framed in our Black gallery style profile and with an elevated float mount to create a dramatic shadow around the work. The float mount also ensures that the signature and edition number do not get covered or crowded by any other elements of the frame.
With our float mounting options, you can adjust everything including the amount of space between the edge of the print and the inside of the frame. This customization level and the ability to preview each option onscreen are some of the best reasons to frame online.
---
Still Life on Watercolor Textured Paper
Image credit: Linda T. from Level Frames verified customer reviews
We love helping artists frame their work. And we love a good still life featuring vivid depictions of fruits, veggies and other produce!
In addition to all of the customization options, artists can always count on conservation grade materials throughout the frame to properly protect their work. From acid-free matting in 4-ply or 8-ply, to UV ray-blocking acrylic glaze options, we have what you need to protect against fading and other damage over the long haul.
From Linda's review after custom framing with us for the first time:
"The frame was absolutely perfect. I can also honestly say that I have never received anything wrapped so well. The fact that everything I needed to assemble the painting and hang it were included was very much appreciated. I have already shared your info with friends !"
---
We hope you found some inspiration from these customer stories that will help you on your next project. As always, we are standing buy to help via chat and email if you need any guidance or recommendations.
Happy Framing!