Whether it's original artwork, a favorite photo or a loving gift, the goal of every custom framing project is the same: Satisfaction and pride over the final work of art on your wall.

With the arrival of Fall, let's celebrate some of the online framing feats our customers pulled off during the month of September.
---
Using our At Home custom framing kit, @agirlahreyhound framed this hand-made wedding gift in our 3/4" Walnut frame with 1.5" of matting.
All of the materials used in our frames are archival and acid-free, and with the addition of UV-protective picture framing glaze, this treasured crochet will not fade or deteriorate over time.
Also getting it done without leaving home, musician @sleepingatlast custom framed this beautiful pieced by Elicia Edijanto as part of the inspiration for his songwriting.
Check out more of Elicia's highly framable art prints.
We're still seeing a huge wave of people custom framing photos, artwork and memorabilia to spruce up their home office.
@tn9designs has a cozy nook going with these geometric prints framed in our Natural Maple profiles and Non-glare glaze. Hanging prints in pairs over a sofa is a great way to fill a bigger space and a very popular gallery wall layout.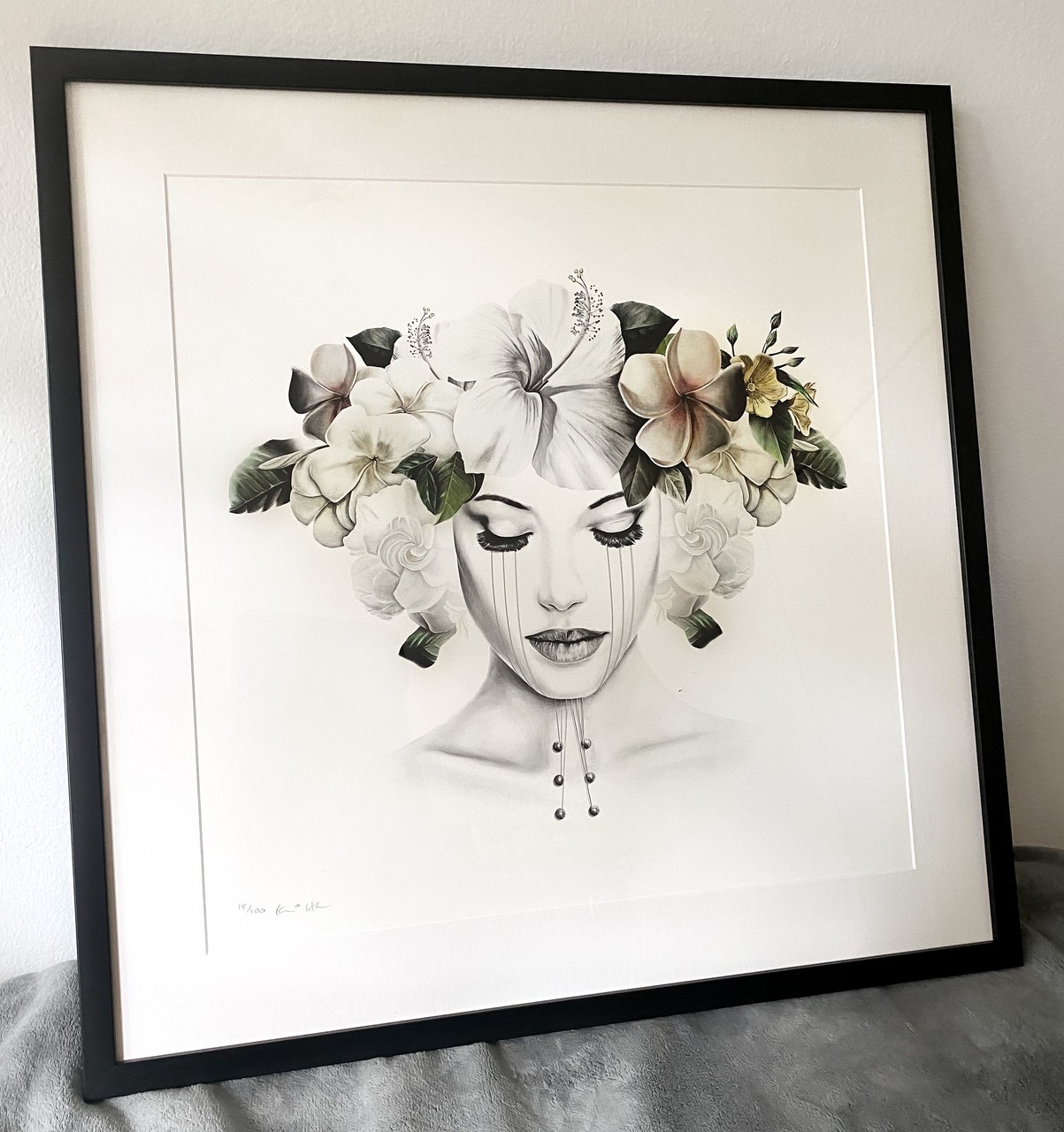 When custom framing online with Level Frames, we can either send the frame directly to you with everything needed to mount the artwork at home, or you can send your items to us for framing in the studio.
For this particular piece, our customer sent the print to us so that we could set the matting precisely so as not to cover up the artist signature and edition number.
Everything comes back to you perfectly framed and ready to hang.
Andrew Banks is a talented illustrator from Chicago, currently on the walls at Backlot Coffee displaying and selling a collection of framed giclée prints. If you can't see his work in person, drop by his Etsy store where he also takes on commissions.
Get in touch if you're an artist in need of custom framing for your own exhibitions. or looking to sell framed versions of your work.
We're becoming known for our framed vinyl records, a special way to celebrate an album or artist who's impacted your life. They are also a popular framed gift, and we can help you track down the right record for the music fan in your life.
@vintage_rice_19 framed this classic Korn record, which was signed on the front cover. For vintage or irreplaceable albums that you don't want to risk sending through the mail, we have an At Home framing option for vinyl as well.
Finally, artist Rhonda Deland shared these framed masterpieces put together last month.
The matte silver face and brushed wood sides of our Nickel frame is the perfect complement to her "Moonlit" series of watercolors that include genuine silver leaf and silver paint.
Thanks, Rhonda, for sharing your beautiful work and the final results or your framing!


View this post on Instagram
A post shared by rhonda deland (@helpme.rhonda) on
---
Feeling inspired to custom frame artwork for your own home or frame your favorite picture so that you can enjoy it on the wall every day?
We're standing by to help with any and all of your online framing needs, and can't wait to see the final results!