When in search of a frame for your photo, poster or print, the goal should be finding one that complements the artwork as well as your existing decor. Thinking about the color palette and subject of the artwork can help you tie these elements together with your frame choice. Here, we break down a range of popular frame styles to give you general tips and guidance that'll help you choose the perfect frame for your next online framing project.
Image source: ByMaria (via Pinterest)
---
Modern Gallery-Style Frames
The gallery frame is a go-to classic thanks to its clean, modern lines and ability to fit seamlessly into any room. Gallery styles usually come in neutral, easy to match colors like black, white and natural woods. They are the top choice when you're looking for something that will look great on any wall and also graciously give most of the attention to your artwork.
For black and white photos or prints, a matching black or white frame provides added contrast, making either one a great choice. For artwork or pictures with vivid colors, a white frame makes rich palettes pop without being too distracting. Black and white frames offer a stylish, minimalist look for people whose tastes lean more modern and simple.
Image source: Instagram, Home Tree Atlas via Pinterest
If a black or white frame is a little too commonplace, but you still want to achieve a contemporary look, a wood tone might be what you're looking for. The grain pattern on the surface adds a nice hint of texture. Darker woods like walnut will make warm colors like rusty oranges and sunny yellows pop, while lighter wood complements cooler colors like mossy greens and sea blues. Gallery frames in these colors also have a slightly more relaxed look that works well with both modern and rustic decor.
One of our favorite things about gallery-style frames is their versatility, the fact that they can be mixed and matched in any given space without clashing. Our frames are available in three different profile widths to accommodate any sized artwork, in four stylish colors: Black, White, Maple, and Walnut.

Image source (Clockwise from Top L): Society6, Artist: Design Outfitters; Society 6, Artist Huebucket; Etsy, Shop: BelleBotanica; Etsy, Shop: Alphonnsine
Weathered Rustic Frames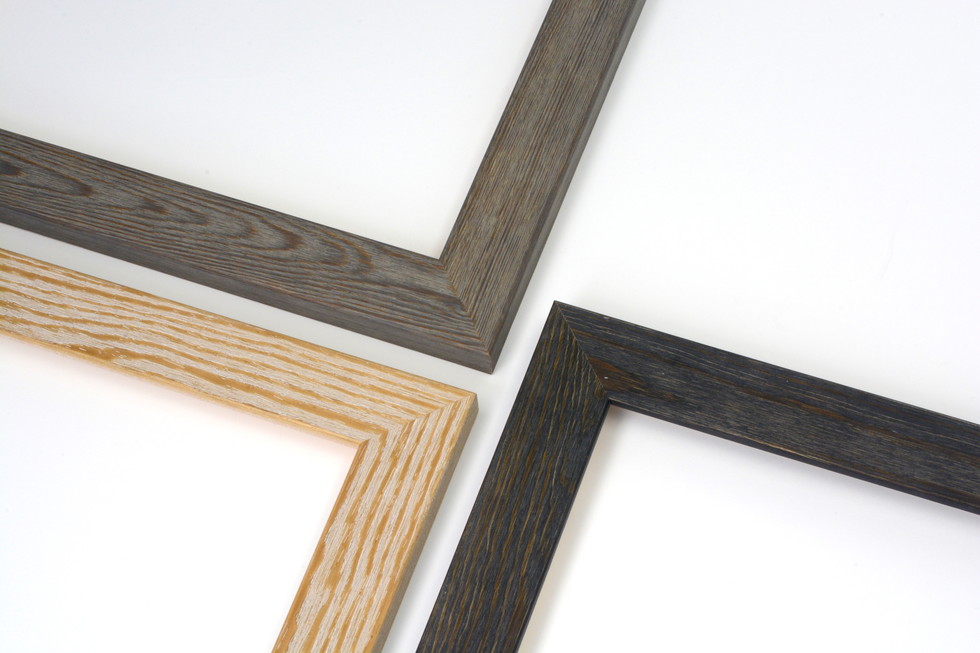 By definition, rustic style relies on warm, homey design elements that are a little rough around the edges, but in a uniquely charming and welcoming way. When we think "rustic", we think of all sorts of woods in earthy colors -- the faded gray of passing rain clouds, the warm black of coals after a bonfire, the multi-faceted, sun-bleached tan of unpainted barn wood. This style of framing makes a perfect home for things like nature photography and family or outdoorsy photos with subject matter echoing the weathered finish of the frames.
Image source: Plane Pretty (via Pinterest), Pinterest
For larger artwork and pictures, thicker frame styles offer a nice aesthetic balance of artwork size to overall frame size, as well as sturdy structural support. For anything with a darker overall color palettes, a lighter frame color like gray or tan will provide a complement without looking too heavy.
Our rustic style frames come in two widths and three colors: Weathered Black, Weathered Grey, and Weathered Natural. Each features subtle natural wood undertones that can draw out lighter colors in any work or photo.
Image source (Clockwise from Bottom L): Mark Tegethoff, Hakon Sataoen, Marko Blazevic (via Unsplash)
Polished Classic Frames

Classic decor tends to be polished and pretty. Sophisticated without being too stuffy or ornate. It's not rooted in flashy trends or current fashion, and instead draws from well-established design principles with true staying power. Classic style often involves lighter color palettes, with pops of silvers or golds that add color without overwhelming the room or becoming too distracting.
Image source: Hey There Home (via Pinterest), Pinterest
If you're framing something sentimental like a family or wedding photo, or something important like a diploma, this style adds extra elegance. Metallic colors like gold or silver, can be artsy and eclectic when the space calls for it, but they're also perfectly at home as part of a more buttoned-up, formal decor style. Black and white photos also look great in gold or silver frames, providing a striking contrast to the image.
Image source (Clockwise from Bottom L): Reshot, Society 6, shop: Herve Denjean, Redd Angelo (via Unsplash)
Our Classic frames come in a cool champagne silver, a warm vintage gold, and a black with gold trim, covering all the bases for classic vintage vibes. This style of frames is a great way to add a little bit of shine to any gallery wall, and pairs well side by side with all types of gallery frames like the ones listed above.
---
We hope this post will help take the guesswork out of your next framing project. If you want to get some visual ideas on how to frame your item and free mock ups, give our custom framing builder a go (you can click Start Framing on top to frame your own).
If you're in need of framing recommendations, or would like to have some one-on-one help with a style decision, don't hesitate to reach out to us via the blue chat bubble icon below!