We remain fully operational and ready to help with all of your online custom framing needs.
Our marketing and support teams have adjusted to remote work, and the safety protocols put in place at our framing studios have allowed us to stay healthy and continue framing.
Frames for Masks Update
Huge and continued thanks go out to the health care workers keeping us safe across the country.
Thanks is not enough, though. Since March we've been committing 10% of the proceeds on each frame sold to the COVID-19 Response Fund so that more masks, gloves and other protective equipment can reach the front lines and first responders.
No place like Home
We will be making our second donation after this weekend's sales. Let's all continue to support our doctors, nurses and hospital workers by staying at home as much as possible!

Spring Artwork Giveaway
In case you missed it, we did some spring cleaning and decided to give away a whole trove of posters and art prints. It's a collection of items accumulated over the years for use in photo shoots and online framing tutorials.
Take a look at the collection and act fast if you see something you like.

Among the artwork up for grabs, Wes Anderson films depicted by the artist Tim Doyle
The artwork is on us when you purchase the frame. So if you were looking for framed artwork to spruce up your home office setup, these prints could be just the ticket.

Coming Soon: DIY Album Frames
Album cover artwork is undeniably one of the coolest parts of a vinyl record.
Several years ago we were inspired to honor and elevate this art form with a unique method of creating framed vinyl records in which the cover shows in full while the vinyl peeks out of its sleeve.
To date, and due to the special mounting required to hold each record in place, we've needed to frame these albums in our studio and ship them back to you ready to hang.
One of our special projects during quarantine has been engineering a new way to build these frames so that we can send the frames to you empty. Soon, you'll be able to hold on to records and complete this DIY project at home.
We expect to announce and make this new option available by the end of April, so stay tuned! You can also contact us and provide an email address if you'd like to be notified as soon as they are ready.
Stay Safe and Be Well!
These are difficult times for everyone, and it's important to find ways to keep in good spirits. For those of you spending way more time at home than usual, we hope we've been able to help you pass the time with a DIY custom framing project or make your home a little cozier with framed artwork.
One recent trend we have observed which is probably no coincidence is an uptick in framed pet portraits.
It seems our new work-from-home buddies are among the MVP's of quarantine and provide a great excuse to frame a photo that you can celebrate each and every day.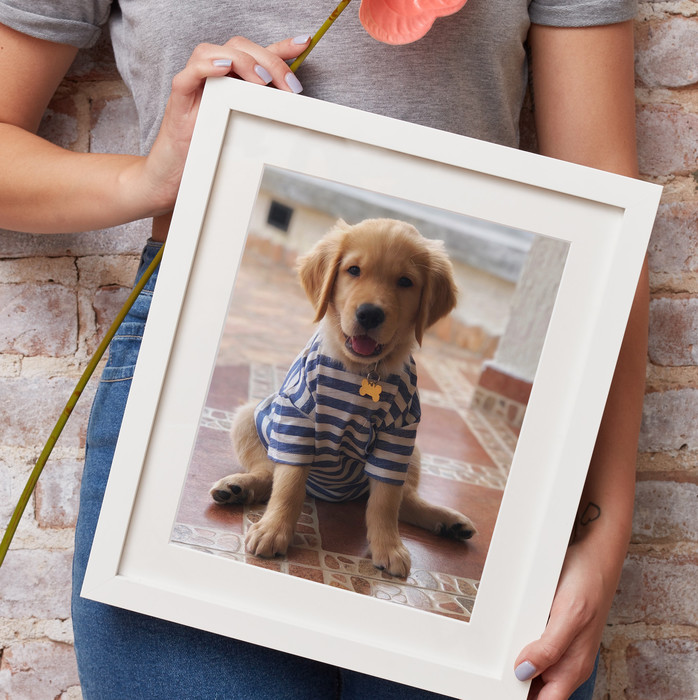 Enjoy the weekend and happy framing (from home)!