Limited edition prints have seen a steady rise in popularity over the last few years as more artists center editions and timed releases as a medium for their work. Though the work is reproduced, editions are still considered original artworks with value.

Whether you are looking to decorate your home with custom framed prints or are building a collection to be archived, here are some tips for caring for your collection so your artwork can be enjoyed for years to come.

---
Handling Your New Art Print

So you've just gotten a new print in the mail and want to take a look at it for the first time. It may be tempting to dive right in, but it's easy to accidentally damage your artwork if you don't take some precautions.

Carefully unrolling the print while wearing cotton gloves.
First, give yourself a clean, clutter-free table space to open your print.
You also want to make sure that your hands are clean and dry. Even better, cotton gloves are always handy for print collectors and the clammy-handed alike.
Artwork that's been rolled up in a tube often arrives tightly curled, especially if it's on a thick paper. That's why you'll want to have some weights on hand.
All types of art weights are available online, made of leather, glass, and brass. But if you don't have dedicated weights, other household items such as heavy glasses or books can be used to flatten out the artwork for storage or framing.
Whatever weights you decide to use, just make sure they are clean, and take the extra precaution of using blank white paper as a barrier between your art and the heavy objects.
---
Framing the Artwork
Custom framing is the best way to protect prints while getting to enjoy them on your wall.
Not only does a frame provide a perfect fit to any print dimensions, it also offers the quality of materials necessary for keeping artwork protected and in top condition over the long haul.
We make it super easy to custom frame your poster online without having the hassle, extra expense, and long wait times of taking your prints to a frame shop.

All of our frames include acid-free matting and backing boards to protect your artwork from discoloration, as well as museum-grade acrylic that is thick, shatter-resistant, and available with UV protection to keep your poster's colors from fading.
We'll handcraft each frame to fit the dimensions you provide and ship everything out within a few days. Orders arrive within about one week with instructions, a small tool kit, and everything you need to mount the artwork from the comfort of your home.
Our DIY framing kits are our most popular option and the fastest way to get anything custom framed, but if you prefer, send the poster to us be framed by a team of professionals and we'll return it ready to hang.
---
Frame Design Tips
If your print is signed or part of an edition, you'll typically want to display the signature and edition number if there is one.
Closeup of Gustavo Rimada print float-mounted with spacers
In cases where the signature is on the very edge of the piece, or the art is printed all the way to the edge of the paper, we recommend float mounting the print so that any information on the edges is not obscured by matting or the lip of the frame.
The deckled edge of a screen print on rag paper
We also encourage you to float your artwork when your print has a deckled edge, which is what it's called when the edges of the paper are torn rather than clean-cut.

---
How to Safely Store Art Prints
If you're not going to be ready to frame your print for a while, you'll want to make sure it's stored correctly.
The most important thing is that it's in an acid-free environment. The packaging your art comes packaged in is not necessarily meant to house it long-term and may be made out of acidic materials that will eventually cause acid burn, discoloring the paper and pigments.
An easy way to avoid this is wrapping the print in acid-free paper and placing it back in the tube. However, storing the print flat is best if you have the space to safely do so.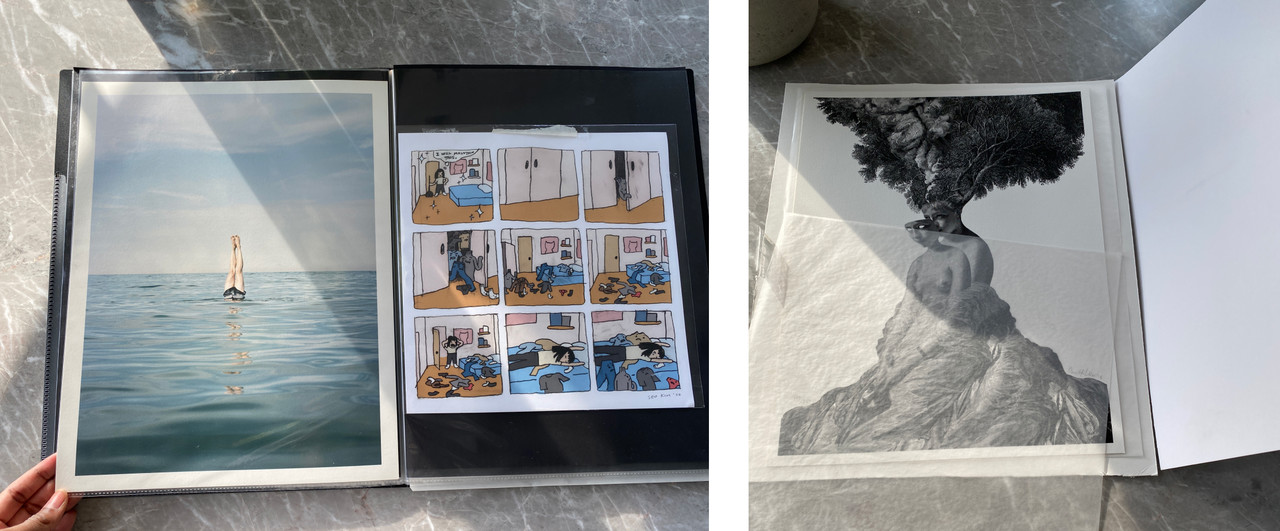 Left: Artist's portfolio book with archival sleeves to hold prints. Right: Prints stored between sheets of archival tissue and acid-free matboards
A flattened print will be easier to handle and less prone to waviness, creasing, and other damage that can come from rolling and unrolling. Print sleeves, acid-free chip or mat boards, and art portfolios are just a few storage options.
Our friends at Bottleneck Gallery, who know limited edition prints as well as anyone, are behind Baroque Portfolios, one of the best methods for storing (or transporting) your collection.
Temperature and humidity are also a factor in protecting prints, so it's best to avoid storing them anywhere that gets very humid or has drastic swings in temperature.
---
Have other collectibles or memories to frame?
We can also help with custom framing collectible vinyl records, original artwork, and any digital photos you'd like to frame.
Happy Framing!