Having an art collection that you can enjoy and be proud of doesn't have to be expensive. We've talked about resources for free artwork in the past, like Raw Pixel and the Audubon Society, which allow you to download and print artwork in the public domain.
But what if you're looking for a fun DIY project or want to reuse something you already have? You may not need to look any further than your own home for frame-worthy artwork.
This recent project from our friend Andi of Doses of Calm shows how custom framing online can transform old magazines into a show-stopping gallery wall.
---
Right: Garage Magazine No. 19
Both vintage and new magazines can be a wonderful resource for photography and artwork.
You get art for your walls for no additional cost and the opportunity to re-use something that might have otherwise been thrown away. Postcards, books, or calendars can also be full of artwork and other eye catching elements.

Andi had a number of vintage magazine from the 1960s gifted to her by her father, and decided to give them new life by designing custom frames for some of the advertisements found inside.
She found vintage ads from Kodak, Hanes, and Chevrolet to name a few.
Vintage print ads from Kodak, Hanes, and Chevrolet
If you're using artwork from magazines or books that you'd like to frame, it's best to get started by removing the pages you before measure. That way, you'll have the most accurate reading of the page size.
Once you have your artwork dimensions entered into our frame editor, you can upload a photo of the item to get a preview of what it will look like in the frame and play around with different design options.
For her print ads, Andi chose our Weathered Natural Frame with a 0.75" face with 1.5" of white matting, finishing it off with Optium Museum Acrylic.
Image Credit: Andi Gladstone, Doses of Calm
Optium was the best choice for these print ads because it is 99% UV-filtering and its super-high level of clarity allows colors to pop while small details like the text remain crisp and clear.

Even if your art didn't cost you much, we still recommend using one of our many UV-protective glazing options, since inks from these print types typically cannot withstand exposure to daylight without quickly fading and discoloring.
Within a week, she received the frames handcrafted to fit the pages, and everything she needed to complete the project at home. Along with a full set of instructions, we send a small tool kit and the hanging hardware. You'll just need a hammer and the right spot on the wall after completing the framing.
The final result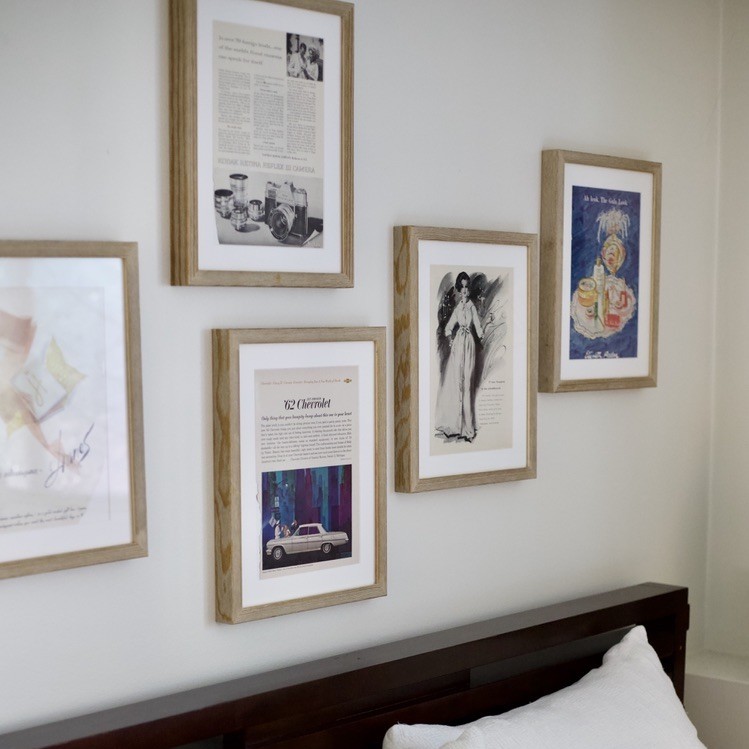 Image Credit: Andi Gladstone, Doses of Calm
In total, Andi framed 5 print ads to create a brand new look for bedroom, with the frames arranged in an organic gallery wall layout.
Thanks, Andi, for framing with us and sharing such a creative project!
For more ideas, follow Andi on Instagram or visit her website, Doses of Calm.
---
Ready for your next DIY project?
Our mission is to make it more convenient, affordable, and even fun to frame the things in your life that make you happy.
For artwork you've collected (or found at home,) order one of our DIY framing kits perfectly sized to fit your art so that you can frame at home, or send it to us for framing at our studio.
You can also upload and frame pictures in the frame style of your choice. We'll make sure each one is printed to look its best.
Image credit: @rosiemaxhimer⁠ | portraits by @clindbergphoto
Whether you're framing vintage magazines or original art, digital photos, or postcards, we'll help you custom frame these items to look their best and last for years to come.
And as always, if you have any questions or need framing advice we are standing by to help.

Happy Framing!