A great Valentine's Day gift will express the joy your significant other brings you every day, and comes wrapped in a romantic gesture. We have a few suggestions that fit this bill and arrive inside a beautiful, handcrafted custom frame.
Select the gifting option at checkout to have your frame gift-wrapped in quilted kraft paper, with an optional hand-written note enclosed. You can also note any deadlines in the Special Instructions field at checkout.
Framed Photos

Create a surprise with a framed photo that captures a special moment in your relationship. Upload the image from your phone or computer, and we'll print and custom frame it according to your liking.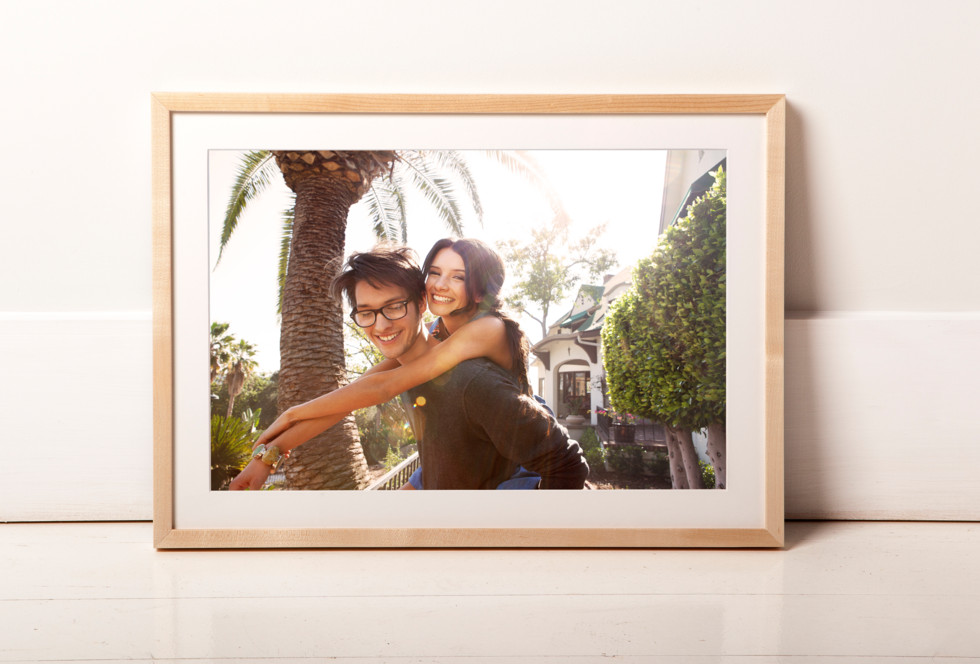 Photos are printed on professional photo and fine art paper, using archival pigmented inks that will not fade over time. Each frame is handcrafted with wood profiles, archival matting and framers grade acrylic to showcase and preserve your photo. Learn more about the materials we use.
Framed Artwork
Odds are that you share a passion for a particular movie, band, animal or place with your loved one. Celebrate that properly with a framed art print that provides daily inspiration. Browse artwork available inside our customizable Level frames, or let us know if there is any particular print/theme we can track down for you by live chat or e-mailing hello@levelframes.com.
We've also curated a Collection of love and romance-themed artwork that come framed and ready-to-hang. Some of these prints are limited edition and require longer turnaround times (up to 2 weeks), so please let us know if you need one by a certain date.
Valentine's Day Collection: Love is in the Air
Abstract Maps Collection by Jazzberry Blue: Frame up a map of the city where you met your special someone, the destination from your most unforgettable trip together or the birthplace of your child! Don't see your desired city? Let us know and we'll find it for you!
Iconic Characters from Movies, Television and Music Collection by Fred Birchal: Share a favorite movie? Musician? TV show? You're bound to find it featured in this creative collection!
Get Creative

For special keepsakes of your relationship, custom framing is a great way to showcase, enhance and protect those items in a way that celebrates its emotional value.
Below are a few ideas -- contact us with any questions about framing objects like this, we love special requests!
Custom frame...ticket stubs from events you've attended together, plane tickets from your most memorable vacation, invitations from those special events, love letters and postcards, an amorous poem or lyrics from a song that reminds you of your S.O.
Speaking of songs, music can play a huge role in any romance. What was playing on the radio when you first locked eyes or shared a first dance? Search for the album on our Vinyl page or let us know what you are looking for -- we'll bring it to your wall in a way that sparks those memories each and every day.
And if you need inspiration, we've come up with five of the most romantic albums of all time, available custom framed and delivered to your door ready-to-hang.
About Level Frames

Level is the best way to custom frame artwork and photos without leaving the house or breaking the bank. Whether it's a 5"x7" postcard, an oversize poster or your own personal photos, Level provides easy and affordable online custom framing to help make your walls look amazing. Each frame is made with sustainably-harvested American wood, handcrafted by a master framer with over 30 years of experience, and ships right to your door guaranteed to fit your artwork.
Learn more about online custom framing for posters, prints and photos.
About Level Vinyl
Album covers are some of the most recognizable and culturally significant imagery of all time. We were inspired to honor and elevate this art form with a unique method of framing actual vinyl records. The album cover shows in full, while the vinyl peeks out of its sleeve. All wood profiles, archival matting and premium, non-glare acrylic are used to finish each custom framed masterpiece.
Find your favorite record or let us know if it's missing.
Update: We made a new list of gift ideas for 2017 featuring suggestions for the best framed photos.

Sign up to receive updates and special offers