Our most popular framing option is our DIY frame kit, which means many of the frames we ship out every day are still awaiting artwork when they leave our studio. That's why we love when customers share the final frame result with us.
This fall we saw a variety of art styles, from colorful abstracts to victorian etchings and designs that step outside of the box with float-mounting.
Read on to see some of our favorite picks from this fall.

---
A Seraphim by Dan Hillier

Dan Hillier is a British artist who's known for his dark subject matter and transformation of victorian imagery in his work. He collages 17th century engravings along with his own linework to create finely detailed prints. To make sure the details shined through, we framed this limited edition giclee of Seraphim II in our Kota Black frame and white mat behind Optium Museum acrylic.
Optium is the best glazing to use for artwork with fine details because of its enhanced clarity. When it comes to original artworks and editions, it's important to take extra care in storing and framing them in order to preserve their value.

---
A Colorful Abstract by Efdot

@EfdotStudio on Twitter: Ahh they're here!!! Open Minds Screen Print editions ✨🏙📍limited to 15 (+ /5 numbered artist proofs) and framed by Level Frames.
Eric Friedensohn, known as Efdot, is a Brooklyn-based artist with a bold style of illustration and colorful abstract art. He framed this limited edition abstract cityscape in a Natural Maple frame with an elevated float and UV-filtering acrylic.
When artwork is placed on top of the mat so that the edges are exposed rather than being placed under a mat with a window cutout, it's called floating. This design style is ideal for artwork that goes to the edge of the paper or has important information, such as a signature, in the margins. In this case, the artwork has a nice deckled edge that he wanted to show off.
---
A Wilco Tour Poster

In a second example of floating, this Wilco tour print was also framed using an elevated float to show off the entirety of the image, which is printed to the edge of the paper. Framing is a great way to both protect and display concert posters. Read our post on
how to frame concert prints and posters
to get guidance on how to protect your collectibles and choose a frame design.
---
An Abstract watercolor by Taylor Gillis
Image Credit: Taylor Gillis on Instagram
And in a final example of floating, the artist used a sandwich float on this orignal watercolor to reveal a deckled edge. A Sandwich float is when the art is sandwiched between the mat and glaze rather than lifted up off of the backing. This is a more minimal approach to mounting items.

---
A KAWS Peanuts Lithograph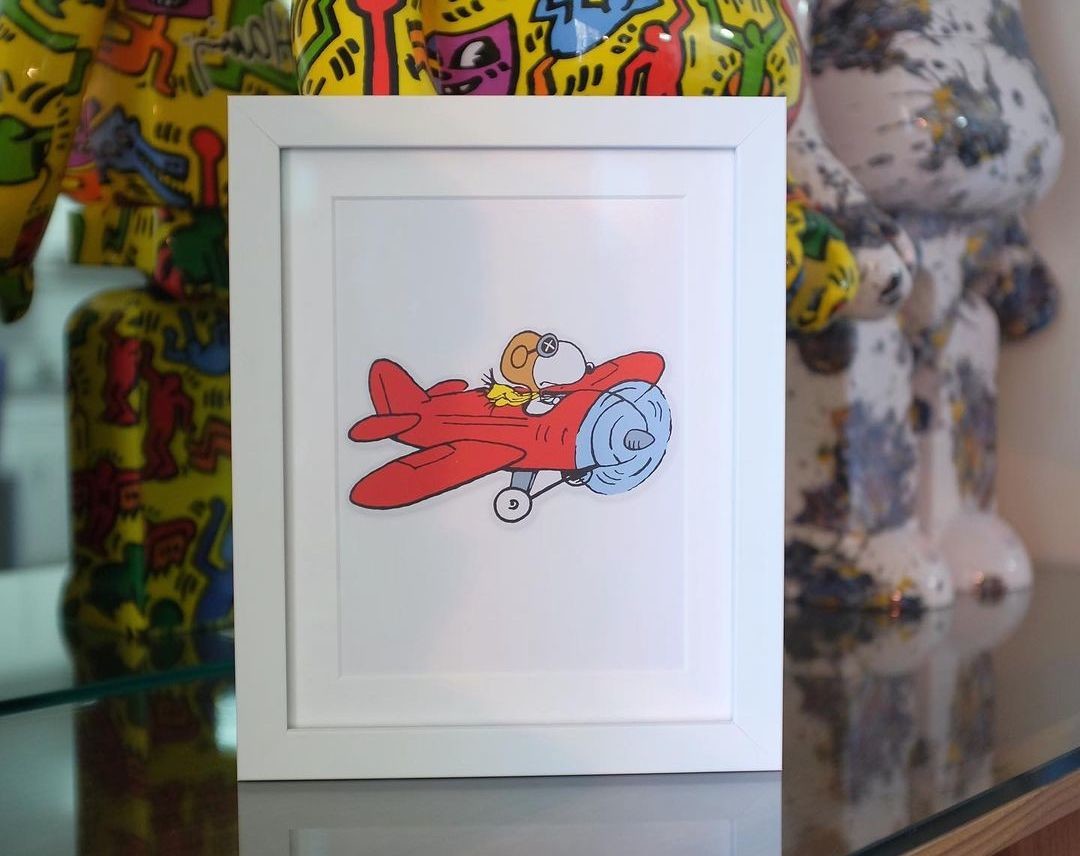 Image Credit: Cristian on Instagram
Cristian framed this limited edition KAWS lithograph in a white frame and mat behind Optium Museum acrylic. Our custom frames are made to hang but for small ones like this, we're happy to provide stand that allows it to stand on a shelf or tabletop.
---
We love sharing all of the incredible projects our customers create and hope you found inspiration for your next framing project.
Happy Framing!