It's always fun to see the different profile colors and mat options people select when framing online with us.
When you are customizing your frame and trying on different styles, oftentimes a particular combination will just seem to match perfectly with the tones in the image or perhaps an aspect of the paper. When you see it, you know.
Continue reading for highlights of the art and photos the Level Frames community custom framed in May.
---
Float Mounted Art Print
Image Credit:@tracycoonart on Instagram
A lithograph is created by applying oil-based inks to a metal plate which is then pressed down onto a tablet to produce a print.
This beautiful one, made by Tracy Coon and hand-pulled at the Robert Blackburn Printmaking Workshop, was recently framed in our classic, gallery-style black profile.
The artwork has lovely torn and slightly uneven edges, making it the perfect candidate for float mounting with spacers. UV protective acrylic was also a wise choice to prevent any fading or yellowing that could be caused over time by exposure to the sun.
---
Rustic Frames for an Art Show

Image Credit:@herbal_bones_art on Instagram
We take a lot of pride in helping photographers and artists custom frame their work for display in exhibitions, on behalf of their buyers or just for their own enjoyment on the walls at home.
For her show as part of the Middletown Arts Fest, the artist behind Herbal Bones Art used Level to frame a series of her original watercolors.
The rustic style of our Weathered Natural frame collection was the perfect compliment to the texture of the watercolor paper as well as the natural themes you will find in her artwork. Congrats on the gallery show!
---
Framed Photo for a Finishing Touch
Image Credit: @lifewith.thehansens on Instagram
One of the best things about online framing is that you can customize a frame to fit the exact size and style of decor you are looking for.
This framed photo was customized with an oversize mat and our Natural Maple frame, fitting in perfectly with the blond wooden shelves and creating the perfect finishing touch in the cozy corner of this living room.
When you are ready to print and frame your own photos, you can choose between a single framed picture or multiple images inside a collage frame, and select from a range of print sizes based on the resolution of your image file. We print on premium, fine art or lustre photo paper using archival inks, handcraft the custom frame to fit, and then ship directly to your door within a few days.
If you can't decide which one of your photos you like best, it's a good sign you should consider starting a gallery wall of frames that you can build out over time!
---
Family Picture Collages
Image Sources:
and
Our collage picture frames are popular for family photos because they allow a story to unfold using multiple images.
You can put together and frame up multiple moments from an event such as a wedding, reunion or graduation, or show the same scene or people at different points through time.
The possibilities are endless, and our super customizable frames can be configured in a wide variety of sizes, styles and orientations to fit any space perfectly. What stories will you tell when you create your own collage?
---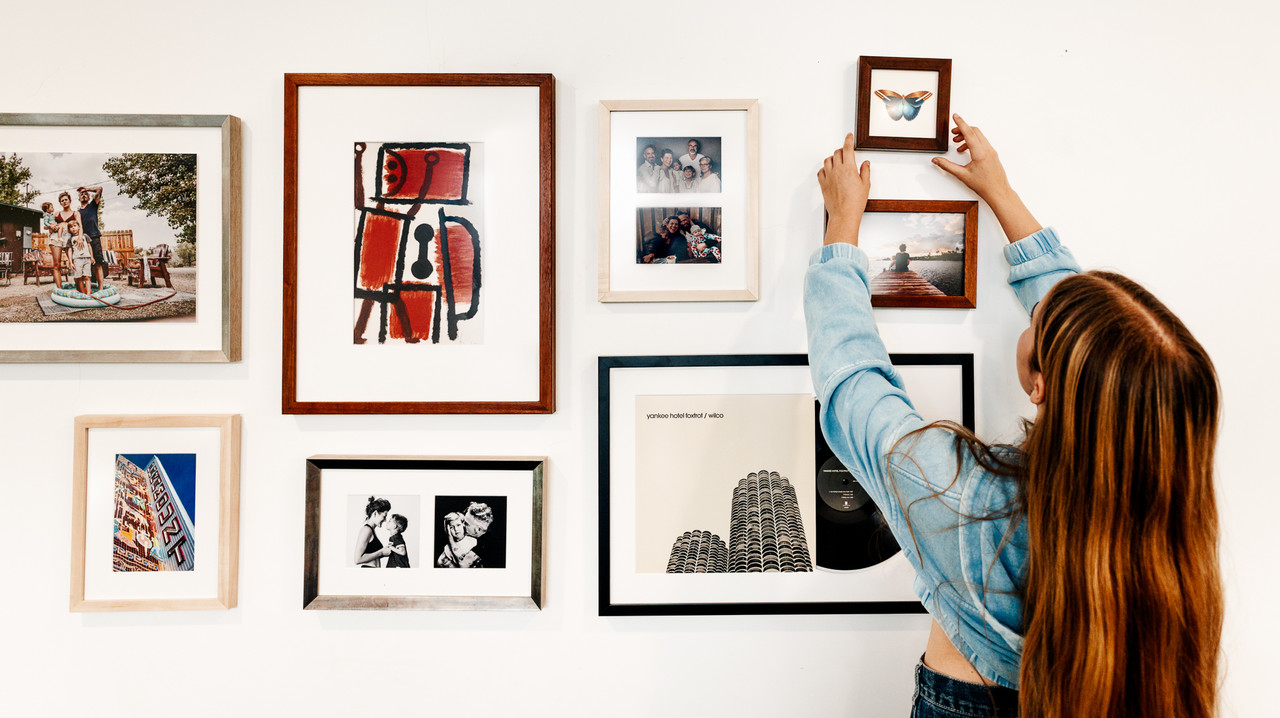 Feeling inspired to custom frame your favorite pictures and the artwork you've collected so that you can enjoy them on the wall every day?
We're standing by to help with any and all of your online framing needs, and can't wait to see your final results.
Happy framing!