Over the years it's been a privilege to help artists, illustrators, designers and photographers access high-quality online framing, and in many cases help them sell framed versions of their own work.
To celebrate these talents and help more people discover them, we've created a Featured Artwork page where you just may find your next favorite piece of art. Below are few of these artists, along with framing suggestions for some of their offerings.
So if you're looking to expand your art collection or fill out a gallery wall and something here strikes your fancy, it only takes an extra few minutes to design the perfect custom frame to fit. No additional waiting or separate trips to the frame shop - we'll deliver the final piece framed and ready to hang within a week or two.
Shop the work below or visit the full collection of featured artists.
---
Framed Letterpress Posters from Joey Roth
"Charlatan, Martyr, Hustler" by Joey Roth - Available in the custom frame of your choice
This series of limited edition posters from designer Joey Roth illustrates the creative process; the route one takes from being inspired to launching something into the world.
Each poster is printed by Dependable Letterpress on 32# Lettra text weight stock, a warm, white paper with a soft, fabric-like feel.

The most popular framing style for these prints, and one our designers can really get behind, is a black, 3/4" gallery style frame with 1.5" to 2" of white matting.
Fun fact: "Charlatan, Martyr, Hustler" was the first item ever custom framed using Level Frames.
---
Limited Edition Prints from 2046 Design
"Apollo 13" and "Apollo 11" by 2046 Design - Available in the custom frame of your choice
We've had the privilege of partnering with and framing for the self-described Midwest-Modernist designer behind 2046 for many years.
These open and limited edition prints are inspired by space, and designed to help you show off your inner Scientist.
There is a wide range of prints to choose from, and a wide range of frame colors and styles to pair them with. We always recommend going with what ultimately looks good to your eye, but will suggest trying out our Natural Maple wood profile with a few inches of matting on any of the prints you preview for a mid-century modern feel.
Stay tuned for more artwork to come from this incredibly prolific artist.
---
NFT Art, Framed and On Your Wall IRL
"Ringers: The Rinkeby Sessions, 300-399" by Dmitri Cherbiak - Available in the custom frame of your choice
We have been printing and framing tons of NFT's recently, and are thrilled that one of the most exciting artists in the space is making open edition prints of his own work available with our custom framing option built in.
Dmitri Cherniak created a series of patterns using an algorithm that models the near infinite number of ways to wrap a string around a set of pegs. They became a sensation in the cryptoart world (Ringers #20 recently sold on Sotheby's).
"The Rinkeby Sessions" consist of ten prints with 100 Ringers each in the order they were minted.
These prints come with a 1" border around the artwork so you can get away with a straight fit (no matting), but we have been liking the way 1.5" of matting creates a little bit of breathing room around the complex and colorful patterns in the art. A black frame is always classic and seems to pick up the darker pockets of color sprinkled throughout the print.
If you are ever in doubt about when to add matting to the artwork or photo you are custom framing, look for the "Golden Ratio" button in our frame builder which sets a balanced mat and profile width based on the print size.
---
Filmmaker & Photographer Dave Shaw

"Road to Nowhere" by Dave Shaw - Available in the custom frame of your choice
A born and raised New Englander, Dave Shaw is a director and photographer living in Boston. His photos capture familiar places from a unique perspective, and serve as reminders of time well spent in favorite places and beyond.
For some of Dave's black and white shots, you can never go wrong with a black frame and white matting. When framing his color photos, try our natural wood frames against the seasonal tones of autumn and summer you will find in his work.
Don't miss the epic overhead drone photos he's taken across many parts of the US and beyond.
---
Pop Art from Fred Birchal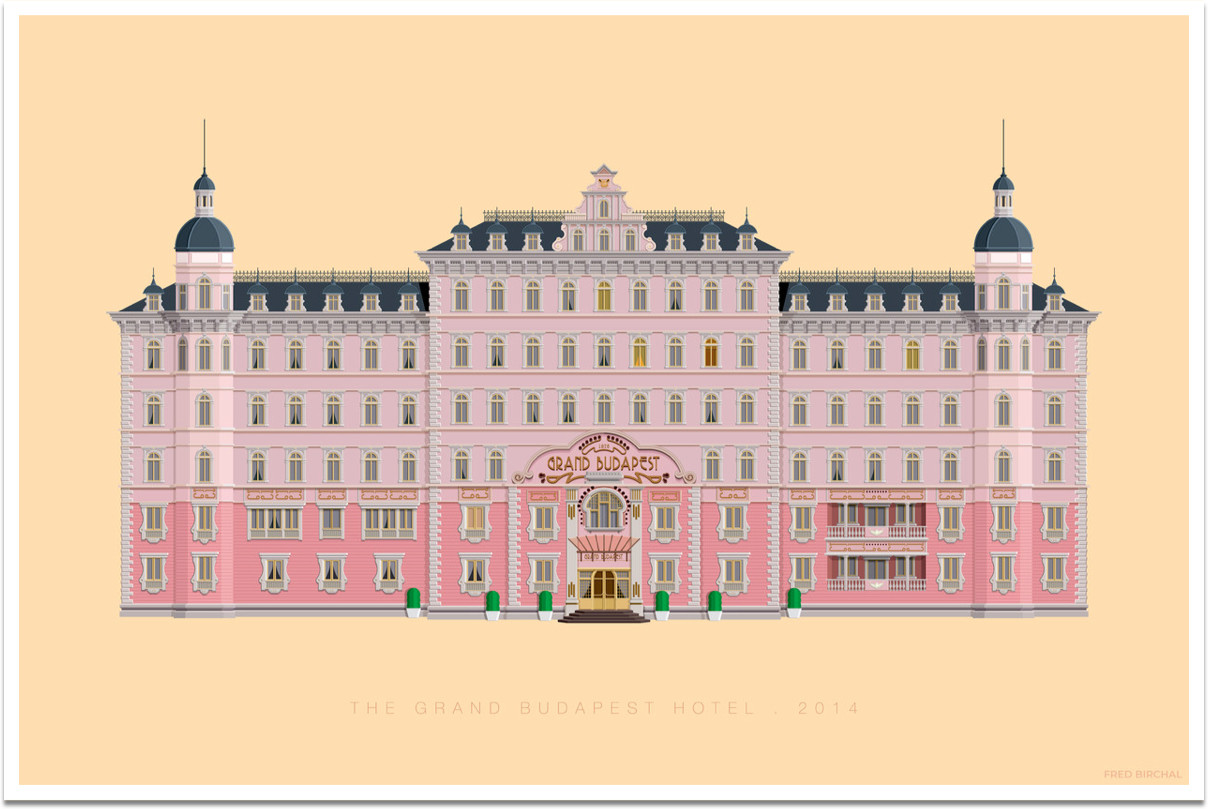 "The Grand Budapest Hotel" by Fred Birchal - Available in the custom frame of your choice
Illustrator Fred Birchal creates stunning varieties of pop-art featuring iconic musicians, film characters, buildings, machines and more. We love his distinctive style of drawing outfits without the body inside, leaving no doubt about the identity of their usual inhabitants.
As far as framing these prints, the bold colors have us leaning towards more neutral frame colors such as our White gallery style profile or the Natural Maple, allowing the illustration to take center stage while the frame stays out of the way.
Fred is another prolific artist who is creating new work all the time, you can stay up to date with his latest creations on his artist portfolio page and go behind the scenes on his creative process on Instagram.
---
Artistic Images from Keith Rossein
"Coastal Beach " by Keith Rossein - Available in the custom frame of your choice
Keith Rossein has a deep passion for photographing landscapes and waterscapes, Americana, images in black & white, botanical settings and experimenting in "artsy images." His photos have been accepted into numerous juried art exhibits around the country.
In one of the most interesting collections, his original photographs are digitally painted, sketched, altered and enhanced to create new artistic images.
When custom framing any picture, photo or art, the goal should be choosing a frame style that complements the artwork along with your existing decor. Since Keith's work spans such a wide variety of subjects and genres, you can use your eye to match up a frame on a case by case basis. For example, on the prints in his Americana collection, you can look to the more rustic frame styles of our Weathered Natural, Weathered Grey and Weathered black collection.
If you are a fellow artist or photographer, you can showcase and sell framed versions of your own work via Dot Press, our artist portfolio and storefront platform.
---
Framed Travel Tracker Map with Push Pins
"Travel Tracker" by Brave the Woods - Available in the custom frame of your choice
From fine art prints to your family photos, vinyl record albums to comic books, we've helped frame and protect a wide range of items. One category we see a lot of and love framing is maps, so we commissioned our own!
The Travel Tracker map features a mid-century modern design, is printed on premium canvas and comes with push pins so that you can celebrate past trips and plot out future destinations.
Designed by Brad Woodard of Brave the Woods, this exclusive map is available in two sizes and with online framing is super simple to frame in the style of your choosing.
It makes for a thoughtful gift or a perfect complement for your den, kitchen, nursery, family room or any shared space.

---
There are even more artists beyond what you see here, and we'll continue to curate our featured artwork collection.
Our goal is to bring forth new and interesting work that you can frame up and display in your home or work space to make them more beautiful.
Happy framing!