Our Five to Frame series highlights exceptional artists and features five of their prints available for online custom framing.
Nestled in the picturesque town of Falmouth, Ashley Percival crafts stories that appeal to the child in all of us. His artwork is a testament to Britain's rich illustrative tradition, and yet, it stands out with its own unique voice.
In Ashley's world, zebras ride the waves, giraffes take leisurely bike rides, and frogs surprise us with their skateboard skills. Check out the colorful and joyful framed prints in his gallery, and continue reading for more about his work.
The Case for Whimsical Framed Art
Just as Marie Kondo advocates for items that "spark joy", art (especially of the whimsical variety) has a unique ability to uplift our spirits.
Ashley's creations are not just drawings, they are experiences. When framed up, these pieces transition from mere illustrations to windows into a whimsical world.
Whether you're framing art for the nursery or a children's bedroom, a study, or a cozy living room corner, these prints bring a touch of magic and wonder.

"Wild Tiger" and "The Coolest Dudes" - framed artwork from Ashley Percival
A playful piece can also stimulate the imagination, making it perfect for spaces where children (and adults!) play, dream, and create.
And for many, these pieces transport them back to cherished memories from childhood, creating a warm, nostalgic ambiance.
Ashley Percival's collection of animal illustrations
Custom Framing Ashley's Work

While the art is the star, the frame can play a crucial supporting role and do more than just make a piece look finished.
The right frame style and color can complement, elevate and enhance the art, ensuring it gets the attention it deserves.
With online custom framing, you can choose the materials, styles and layouts that align with your personal aesthetics or the decor of the room.

"Blue Cheetahs and Daisys" custom framed with a white profile and top and bottom weighted mat
One overlooked aspect of framing is the way it protects and preserves. High-quality framing materials shield the art from harmful UV rays, potential water damage, and dust.
---
In the world of art, Ashley Percival stands out with his distinctive style and joyful themes. When paired with the right frame, his pieces are transformed into timeless treasures.
Explore more of his world and discover the enchantment of whimsy paired with a handcrafted custom frame.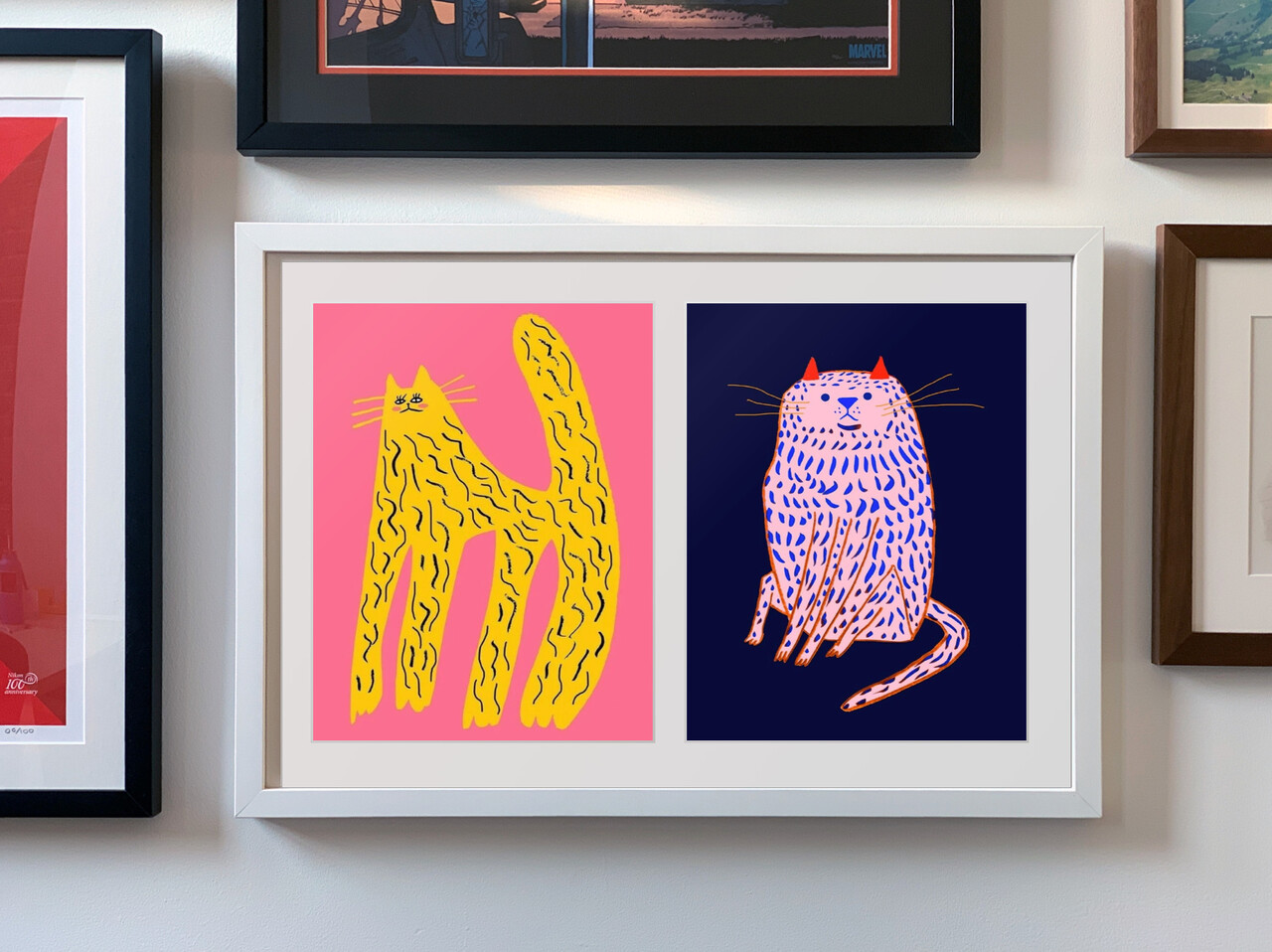 Happy framing!