We're here once again to celebrate a handful of the most interesting online framing projects completed by our customers during the past month.
From inspiring artwork to family photos, limited edition posters to pet portraits, the goal of every custom framing project never changes: Satisfaction, pride and joy over the final work of art hanging on your wall.
---
Image Credit: @katerinapearle on Instagram
Loving v. Virginia was a landmark civil rights case in 1967 in which the U.S. Supreme Court struck down laws banning interracial marriage.
A simple reproduction of the case's name and main point, framed in our black, gallery style frame with 2" of white, archival matting, is a beautiful way to celebrate and remember this piece of our country's history.
Thanks, Katerina, for sharing a photo of the final result!
---
Image credit: @focalrangepgoto on Instagram
Focal Range Photo was started by Phil Brooks in 2018 after 15+ years of passion and growth in photography. Keep an eye out for an upcoming print shop up featuring landscape images he has gathered on his journey.
Framing one of his photos for the personal collection, Phil selected a 2.5" mat to draw the eye inwards on this stunning sunset scene, and opted for a hardwood maple frame to keep with the natural theme.
One of the advantages of online framing is being able to visualize the different frame and mat options to find what works best for your artwork or photo.
Many professional photographers use Level Frames due to our ability to work with huge image files, and our attention to quality on both the printing and custom framing.
Great work on the shot and the framing choice!
---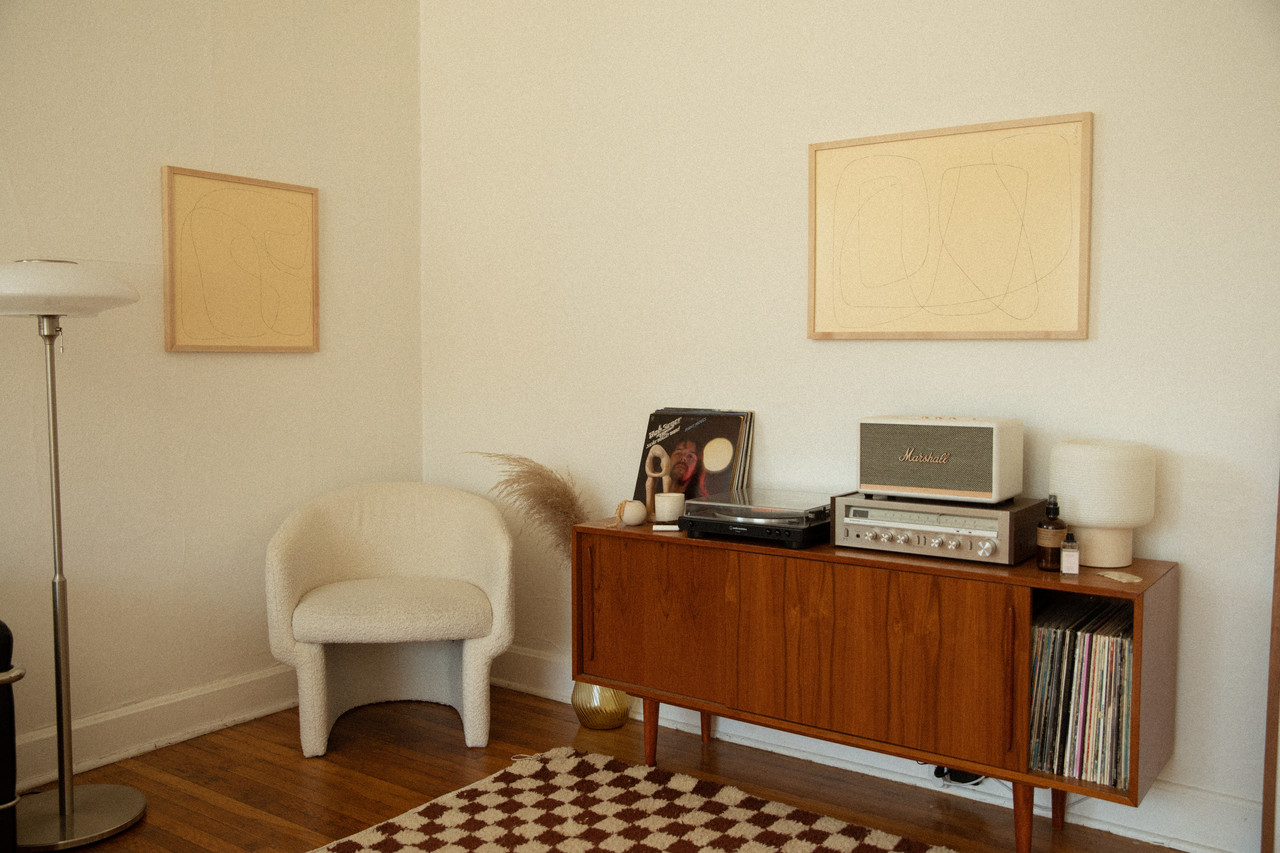 Image credit: The Moptop
Another fan of our natural maple wood frames, Tonya is a fashion maven based in Portland who blogs at The Moptop, a moniker that comes from her love of the Beatles and her messy hair.
The frames nicely complement these abstract line drawings, creating a cool, mid-century modern vibe anchored by her hi-fi system and record collection. One of our framed vinyl records could be a finishing touch to consider!
One thing Tonya looks for in custom frames is the option to choose a picture frame glaze for various lighting environments:
I think one of the other main reasons I love Level Frames so much is that they have the option to get non-glare! In the past when I would order frames, I would get them and would noticed the light glare and reflection of everything. But when the non-glare, you can see the art so much better. I wasn't kidding when I said that Level Frames has the best picture frames!!
Follow along on her blog where she shares her style, inspirations and more, including other rooms that feature Level Frames.
---
Image credit: @marimaion / Artwork credit: @sofielamoretti
We love framing all kinds of artwork, from vintage posters to watercolors to digital illustrations.
This artwork by Sophie Lamoretti is a cool blend of photography and digital illustration, and shows beautifully inside a classic, gallery style black frame.
It's also another example of how adding negative space around the artwork - in the form of a white border or by using a mat that lays on top - pulls the eye towards the image and allows it to breathe visually. If the item you are framing ever feels constrained or crowded by the frame, adding a mat is usually the answer.
---
Image credit: Jennifer Laura Living
Home decor extraordinaire Jennifer Laura recently completed a One Room Challenge, topping off her design with a tasteful gallery wall above a bar cart.
For an 18x24 poster with floral theme, she went with the Academie Black profile from our Classic frames collection. It's an all-wood frame featuring a gold-flecked trim around the inside edges.
A black mat was added to create a bit of extra drama and focus the eye on the colorful flower arrangement in the painting.
The final result is a room that anyone would want to spend time in:
---
Stay tuned for more impressive picture framing examples in the months to come.
And if you're feeling inspired to custom frame your own photos or artwork, we are standing by to help with any and all of your framing needs.
We can't wait to see your final results!