We're on a mission to provide quality online custom framing at a fair price all year round.
But once a year, we put on a sale to help Black Friday and Cyber Monday shoppers take care of all the things they've been meaning to frame along with a little holiday gifting.
This year, we decided to open it up early to help you avoid any stress you might be feeling around getting things delivered in time this season, so it's happening now!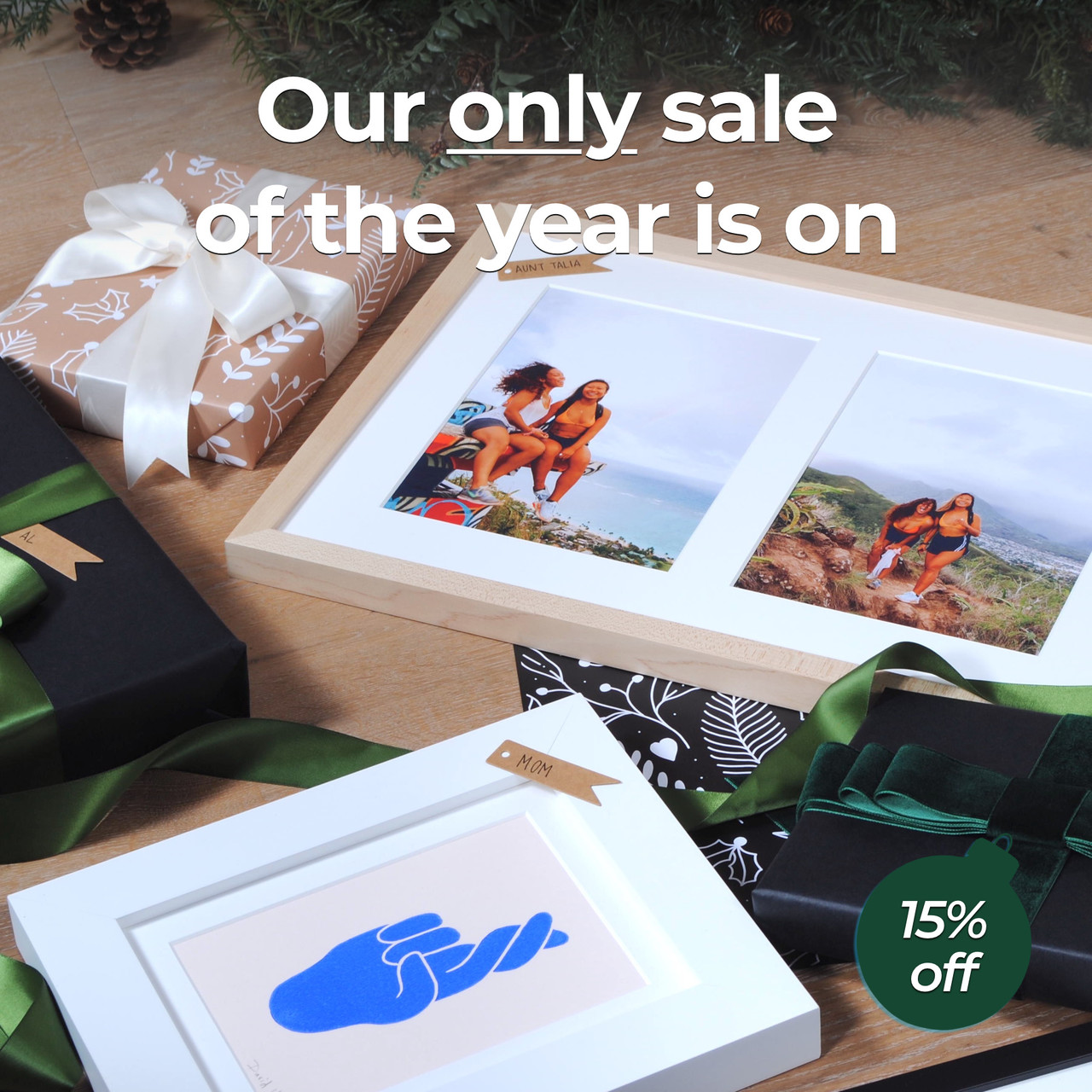 So if you have empty wall space, favorite pics to frame or need thoughtful gift ideas, now's the time to get 15% off everything site-wide.
Below are a few ideas for what to frame for yourself, or someone special to you.
Forever Classic, The Framed Print
It only take minutes to frame a photo as a gift that you can wrap up for under the tree, or enjoy every day on your own wall.
We print on professional, archival paper, and ship your handcrafted framed photo ready-to-hang.
The 15% off won't be available forever, but these gallery quality prints and frames are designed to last a lifetime.

Tell a Story With Photos
Get creative and design a collage picture frame using up to five photos to commemorate special people and moments.
We have a few pre-set collage frame styles ready to go, but you can also freestyle it with a totally custom collage -- adjusting the number of pictures, the mat, orientation and more before uploading your photos and customizing the frame online.
Celebrate Past & Future Journeys
We love framing maps so much that we decided to commission our own!
The Travel Tracker is a mid-century modern map available in two sizes. It ships in your choice of custom frame with a set of pushpins, so that you (or a lucky gift recipient) can reminisce over past trips and plot out dream destinations for the future.
Get Off the Wall
We designed these tabletop picture frames for a gallery wall and just the right balance, and curated a range of profiles to bring out the best in any of your images.
Our most giftable frames yet stand on any flat surface and can also hang on the wall.
At $49 for the first frame and just $39 each after that, it's a great way to start building out an epic gallery wall.
Did we mention that you save an additional 15% through November 30th?!
Framed Vinyl Records is Music to Your Walls

We came up with our own way of framing actual records to show the cover art in full, with the vinyl peeking out of its sleeve.
It's stunning presentation sure to connect with any music fan, especially if it involves their favorite album or artist.
Normally starting at $180, framed records like "Abbey Road" by The Beatles is now $153. We'll source the record for you or you can send one in - if you don't see what you are looking for, just let us know and we'll hunt it down.
You can also use our DIY Vinyl Framing Kit to frame your own records at home.
Each framed vinyl record album is 25.5" x 17.5" and ships ready to hang.
Even Gift Cards Are on Sale
If you don't have anything to frame but want to lock in savings now, or if someone you love has yet to discover the convenience of online framing, our e-gift cards can be sent on demand or up to the very last minute and used for anything we offer.
Purchase an e-gift card in any amount you like, we'll handle the rest.
If you'd prefer to gift in person or want something to place under the tree, we also have physical gift cards for custom framing that arrive by mail with an envelope and beautiful card.
That's a Wrap!
At checkout, we have a complimentary gifting options available!
When "Send as a gift" is checked, we'll carefully wrap your frame in quilted kraft paper, and we can also include your message on a note card for extra personalization (optional).
Finally, if you haven't yet set up your Level account, you can sign up here for $15 off your first order and instantly get access to the best online custom framing experience anywhere.
---
Frame Photos With the Best of Materials

When it comes to your photos and printed artwork, we know that materials matter, which is why we only use the best printing and framing components.
There are tons of options out there, but here are the basics you'll want to know (and what we offer):
Image source: Brooke Lark via Unsplash
---
Printers

To make sure your images end up looking exactly how you envisioned them, our Epson SureColor P9000 printer is color-calibrated, which means it will print true to the colors in your original file.
Keep in mind that printed images do not have the same color range as the one on your monitor, so physical prints can sometimes look darker than what you see on your screen.
Our printers are wide format, and can print images for framing up to 60 x 96". So, if you're looking to frame large artwork and photos, just let us know.
The Ink
Archival pigment inks are the go-to for any serious printer and ensure that your image will not fade or discolor for a very long time.They're also eco-friendly, which we love. Other types of inks, such as solvent dye-based inks, are not archival and should be avoided if you're going for real longevity and depth of color.
Paper Types
As far as paper goes, there are several types to choose from, each with its own unique qualities and textures. They can vary in finish and thickness, and can play an instrumental role in the overall look of the final result. The papers we use to print artwork and photos are archival, acid-free and thick stock.
Our main two offerings for printing photos are as follows:

Matte
Our 285g Archival Matte art paper has a slightly textured surface, with no reflectiveness. It gives a more painted, artistic look that's ideal for art prints and black and white photos.
Lustre
Professional Kodak Lustre paper is a classic type of photo paper and has a slightly glossy, reflective finish. This one is great for portraits, as well as more colorful, crisp photos.
Once your images are ready for printing, all that's left is to choose the perfect frame.
Happy Framing!