From vintage photographs to NFT artwork, there is no end in sight for the different ways you can style your home or office with online custom framing.
Once again, we've rounded up some of the most spectacular designs of the previous month and September did not disappoint!
Below are just a few of the projects that impressed us.

---
A Living Room Triptych
Image Credit: @mickimorris on Instagram
Micki gave her living space a kid-friendly refresh, topping it off with this trio of framed photos (and it looks like her little one approves!)
Her photos already had a nice border included, so no matting was needed. This made for a super simple DIY project where all she had to do was place the prints inside the frames and hang them.
If you're also looking to refresh your own home for the Fall, new artwork makes a big impact. It's easy to print and frame your own photos with us right from your camera roll, or browse our top recommended sources for free downloadable artwork.

---
A Kitchen Vignette
Image Credit: @homewithharper on Instagram
The kitchen can be a great place to add some personality and warmth with the right decor elements. Here, Kris' open shelving is perfect for a vignette styled with recipe books, tools, and artwork - a mix of design and function.
She framed a landscape photo in our Academie Black frame and black matting. The tones of the photo match the natural and airy elements of her kitchen, while the dark frame and matting contrast nicely against the lighter tones.
If you're planning to display framed art in your kitchen, a few tips:
Keep the art away from direct heat sources
Always opt for framed art with protective glaze rather than exposed canvas as it can be difficult to clean
Clean your frame at least every other week to prevent the build-up of food splatters or oils that might make their way onto the frame
---
A Piece of Family History
Image Credit: @lifeoncoombscreek on Instagram
Cristen custom framed this vintage photograph of the ship her father-in-law served on during WWII. She had the photo for many years and just needed the frame, so she completed this framing project on her own using our DIY frame at home option.
If you have old photos that are fragile or you're worried about sending them through the mail, we recommend these At-Home framing kits.
All frames come with acid-free matting and backing to protect artwork and photos long-term and we offer 99% UV protective glaze in three finishes to keep irreplaceable items from fading.

---
A Home Office Gallery Wall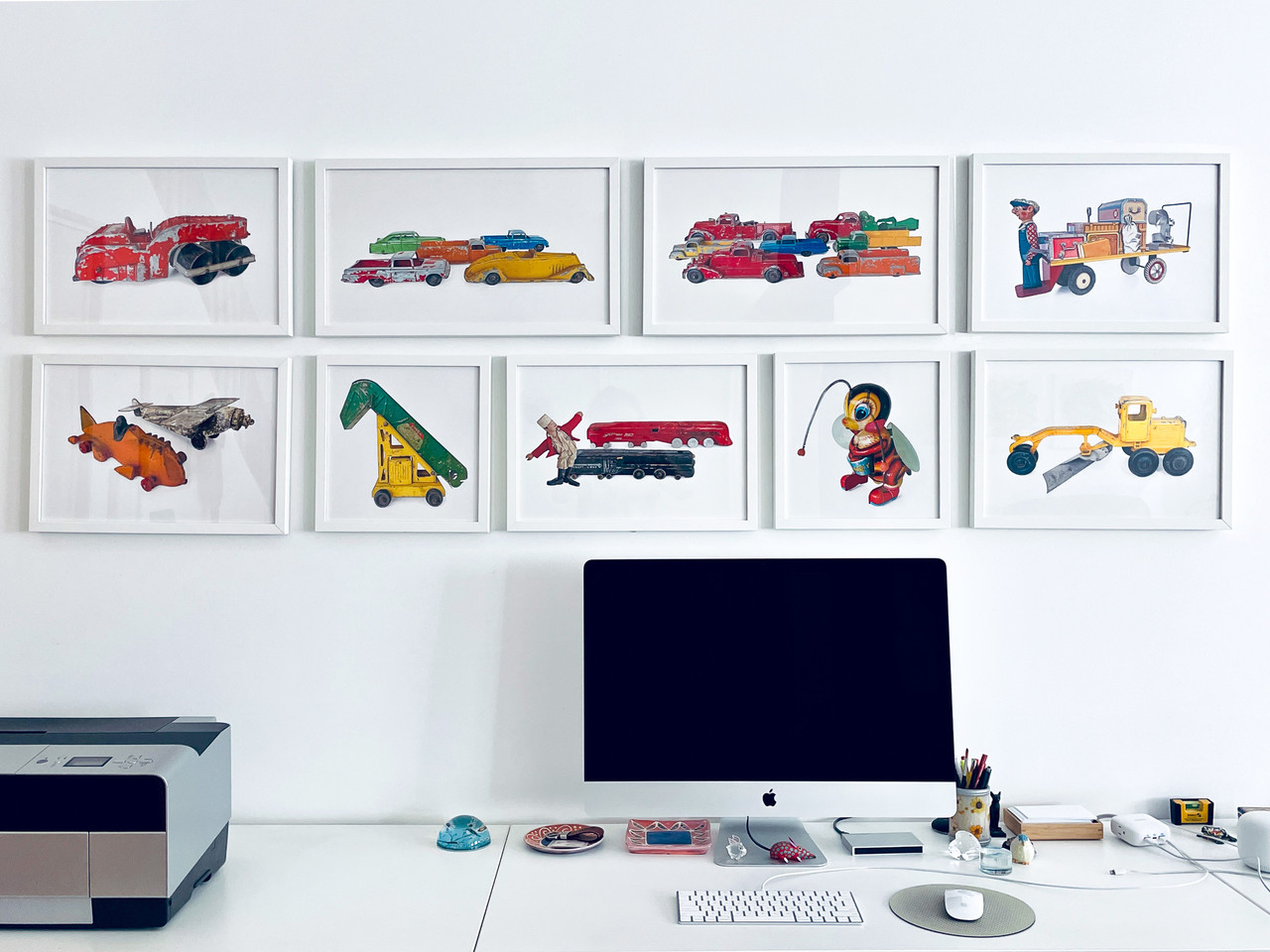 This minimalist gallery wall design gives maximum impact to these colorful toy paintings by Laurie Greenly!
Since the subjects already have plenty of white space around them, matting wasn't necessary. Framing the artwork right to the edge with a simple white frame keeps the space feeling open and the images uncrowded.
We love seeing the creative displays our customers come up with! It's easy to design your own gallery wall with help from our frame editor; you can see previews of your art inside of the frames, along with the outer dimensions so there's no guesswork when planning how much space you need.

---
Even More NFTs!
Image Credit: @tlaird_expivia on Twitter
These four women are just a few of the unique and eye-catching personalities created for the World of Women NFT series.
Designed with framing in mind, all WoW NFT owners get access to the super hi-res files which means they're ready to go for printing and framing.
Thomas went with a 24" x 24" print size, framed in Black Maple frame and a white mat. This classic design works great for a multicolored series like this, but there are even more ways you can frame your NFT art.

---
Whether you're refreshing your space for the season or getting a jump on holiday gifting with custom framed art, we've got you covered!

As always, we're standing by to help with any and all of your online framing needs, and can't wait to see the final results.
Happy framing!