The flowers are blooming, the sun is out, and the honeybees are hard at work, but they're not the only ones crossing to-dos off their lists.
Ordering frames and photos online is the simplest way to complete some of those spring decor projects.

Read on to see how Level Frames customers have been refreshing their spaces this spring with some of our framing highlights of April.
---
A Live Music Gallery Wall

Sofar Sounds is a community of thousands of artists, event hosts, music fans, and more that puts on hundreds of secret, intimate events every month across cities worldwide.

It was a thrill helping them to create this custom gallery wall of framed photos and posters for their new office in Boston.
We helped design a display with both photos we printed and DIY frames, giving them the option to swap out the posters over time.

The design includes 11" x 17" print sizes for all the frames and a mix of matted and un-matted frames for variety while keeping everything visually consistent.
We have special services for businesses looking to decorate their office spaces with custom framing, so don't hesitate to reach out for help with your upcoming project!
---
A BFA Thesis Gallery Show

Image Credit:@emilialorenzphoto on Instagram
We also help artists and photographers frame and display their work, like this gallery exhibition for artist for Emilia Lorenz.
She used Level Frames to print and frame photographs for her BFA thesis show, designing the arrangement herself. In total, there were 16 photos framed in our .75" wide, White Maple frame.
Custom framing online can alleviate some of the stress of planning a show. We make ordering all of your frames easy, and can either print for you or send empty frames right to the gallery space.
We can even help meet any gallery requirements for hardware, glazing types, or frame styles. Read our blog to learn more about how we help artists with exhibitions.
---
Colorful Fine Art Prints

Image Source: @ashlecabbage on Instagram Artist: @sew_trill on Instagram
Ashley used our DIY framing kits to frame these two prints by Cristina Martinez.
She chose an elevated float mount, which allows the entire print to be shown. This treatment is ideal for artwork that is printed all the way to the edge, or has edges are deckled.
We offer a variety of options for coming up with the perfect custom frame design for whatever it is that you are framing.

---
A Women and Weapons NFT

Level has had the pleasure of framing artwork for many NFT projects, such as World of Women or works by Amber Vittoria, featuring stunning artwork that even collectors outside of the crypto community could enjoy. Women and Weapons is no exception to that.
The 10,000 pieces in this collection were generated from elements hand-illustrated by notable artist Sara Baumann, who chose a nostalgic mid-century style for the artwork.

Lindsay chose a 20" x 20" print size in our Academie Gold frame, which complements the colors of the print perfectly.
To get the best results printing an NFT, you'll want to get the original hi-res file which can either be retrieved from the project's website, or use our tool to connect your digital wallet to locate all artwork files associated with your NFT tokens. We'll find the highest resolution version available and provide options for printing and framing.
---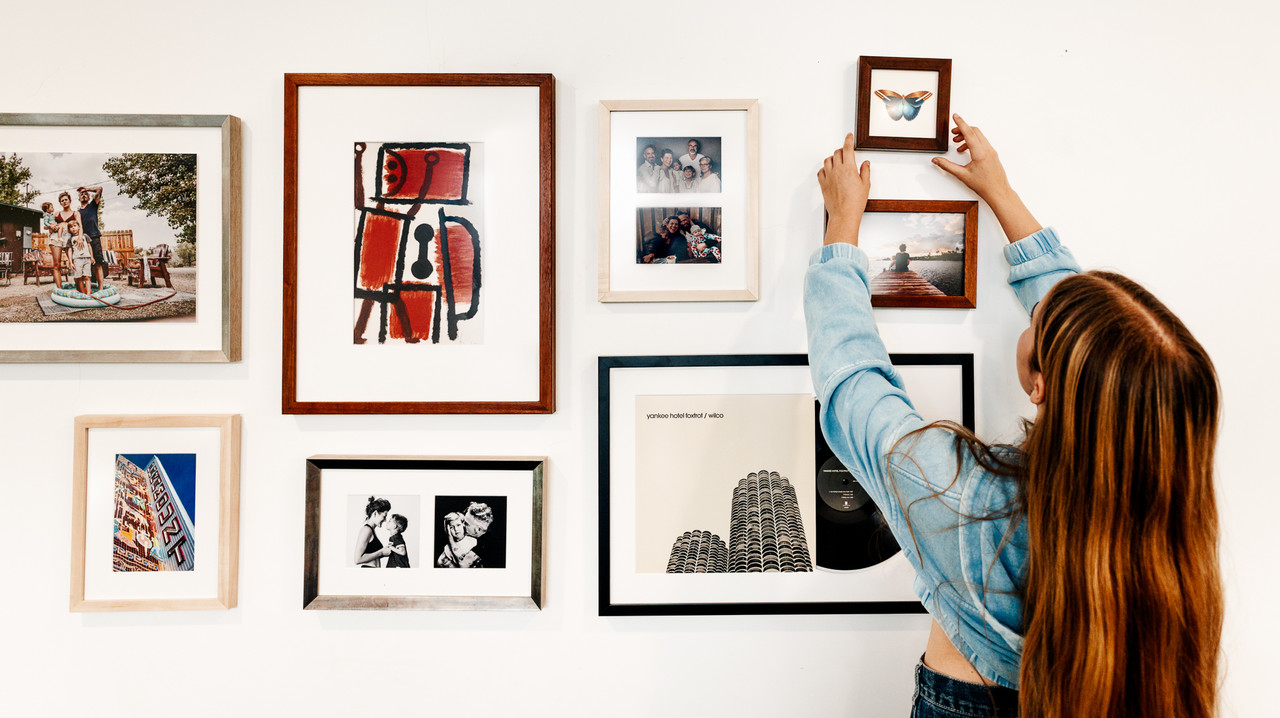 Feeling inspired to custom frame artwork for your own home or frame your favorite picture so that you can enjoy it on the wall every day?
We're standing by to help with any and all of your online framing needs, and can't wait to see the final results.
Happy framing!